Campaigns
Campaigns in the main menu is where you add and manage your campaigns - the login experience for your guests.

What are Campaigns?
A campaign is the login experience that your guests see when logging into WiFi through your device. At its most basic, it consists of two separate pages -- the login page before they authenticate and the thank you page after they authenticate -- but more advanced campaigns can have a page between them with advertisements, as well as an automatic redirect after the thank you page.
Required:
Active MyWiFi subscription.
Campaign creation
Select Campaigns from the main menu.

Click Create From.

You now have three options: you can select Facebook Page, Website, or From Blank/Template.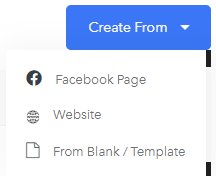 Facebook:
Provide the ending of the URL of the Facebook Page and hit Create. We will pull the header image from the Facebook Page, as well as use the profile picture as the logo.


Website:

Provide the website URL and hit Create. We will pull as much information about branding from the website as possible, including the logo.
NOTE: What information we're able to pull from the website is entirely dependent on the website's code.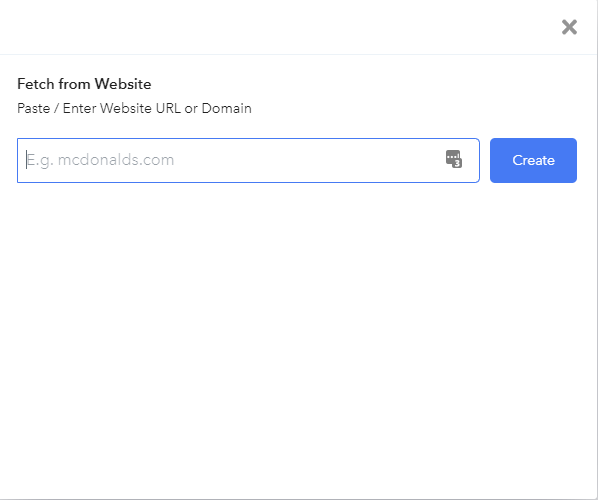 Create from Blank/Template:
If you have set up a default campaign, that will be used as the creation point.
If you haven't set up a default campaign, the starting point will be completely blank.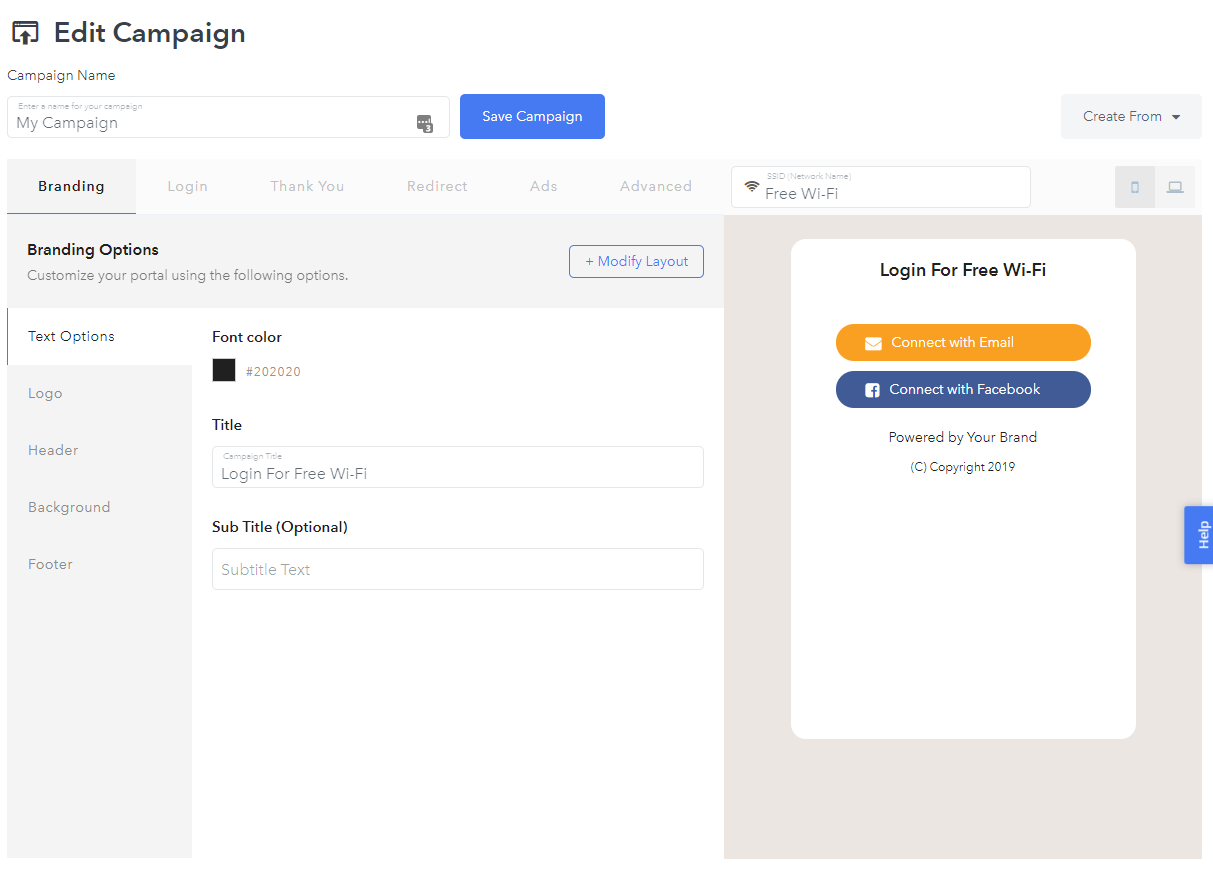 Campaign customization
Campaign branding
Viewing the Branding tab, you can customize your campaign layout and apply your own custom branding, text, header, campaign background, and more.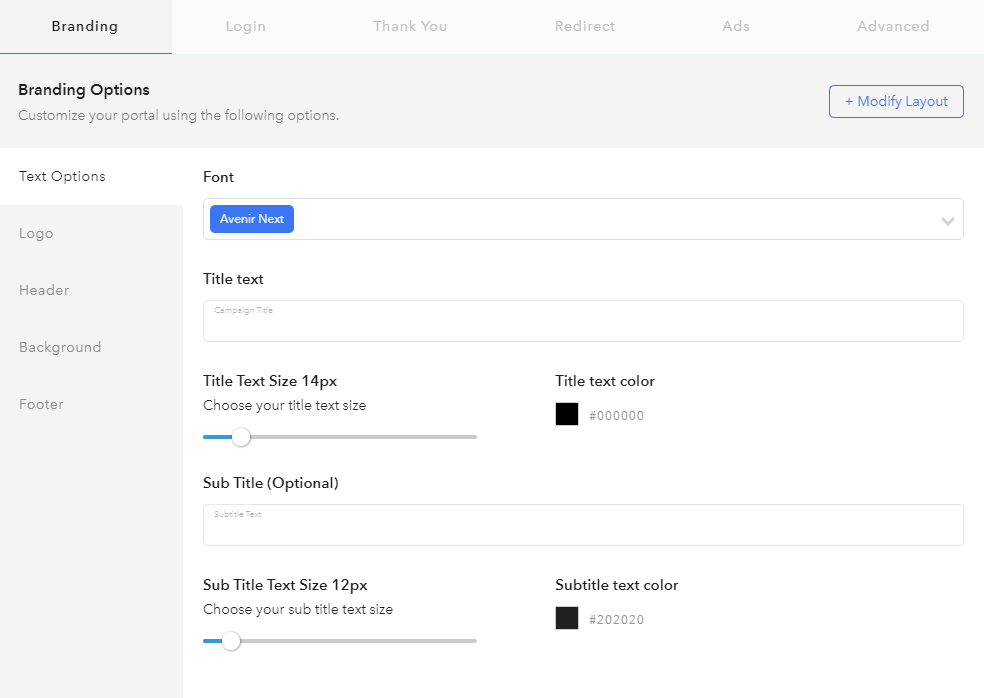 Campaign login options
With the Login tab you can customize the login options, including the button style.
For Social Login options to work, you will need to set up a custom social app.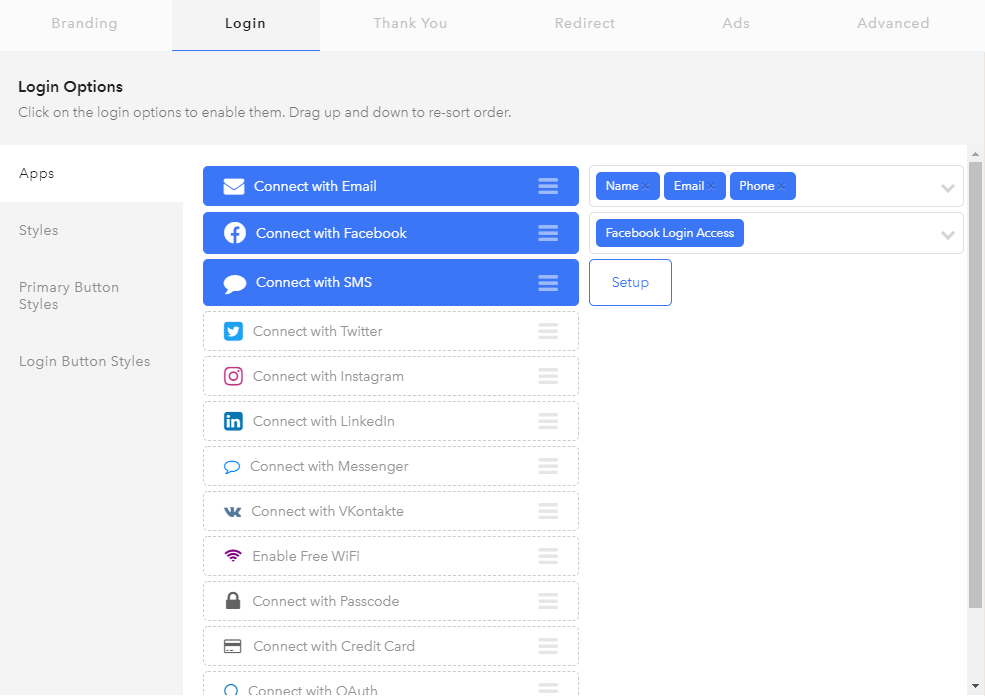 Campaign thank you page
Using the Thank You tab, you can thank your guests after they log in, and can add a Facebook Like box, custom text, an image, or custom HTML. You can arrange your content via drag and drop using the sidebar boxes.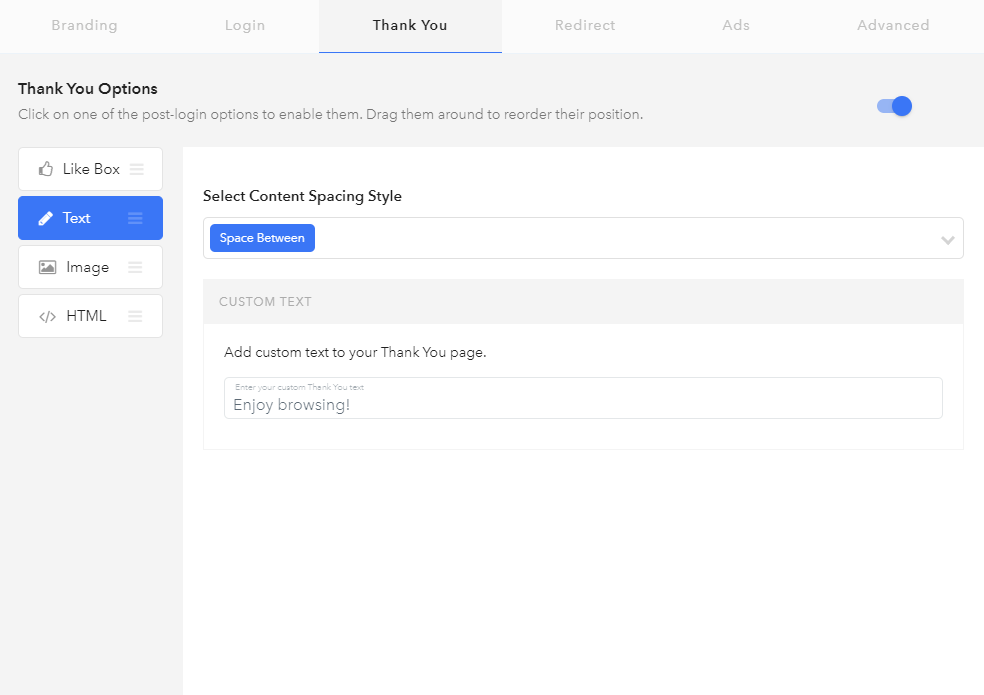 Campaign redirection
On the Redirect tab, you can redirect users to a webpage or an app download, or even direct message via your Facebook Messenger or WhatsApp account.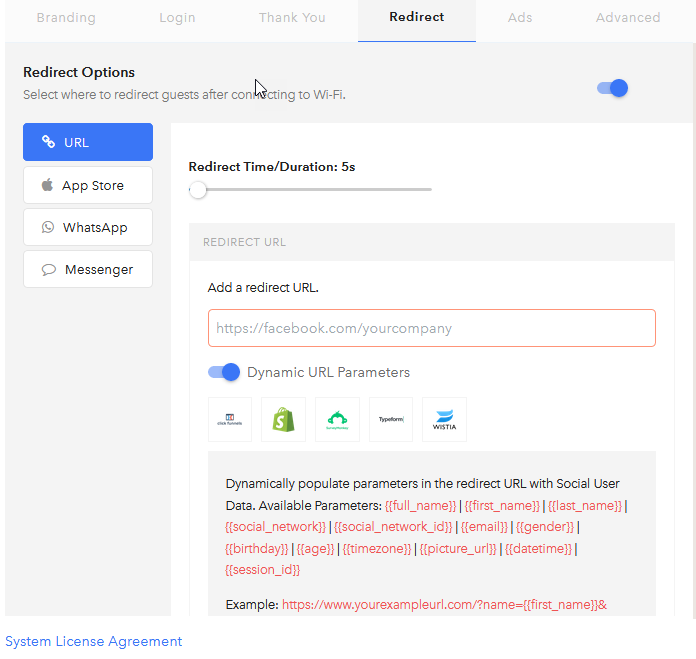 Campaign ads
Viewing the Ads tab you can set up ads -- for example, for upcoming events or a promotion.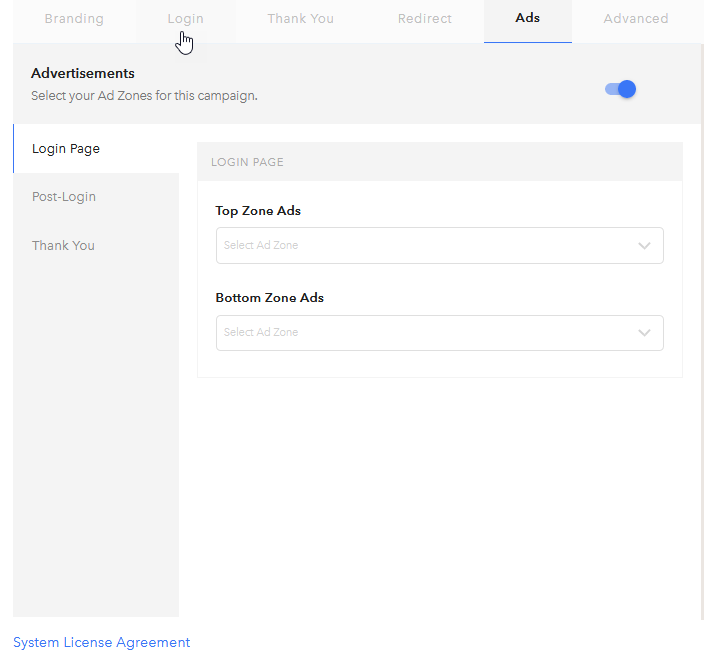 Advanced options
On the
Advanced
tab, you can do more with your campaign, such as adding
Facebook Pixel tracking
, adding your own
custom terms and conditions
or
opt-in and compliance
, and applying your own CSS.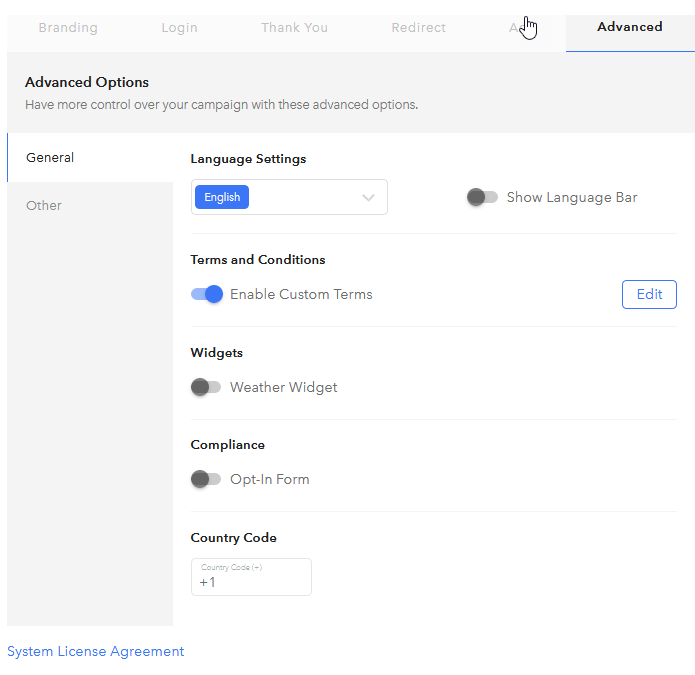 Manage your campaign
To make changes to your campaign, click Edit Campaign. You can then make changes to any of the sections listed above under Campaign customization.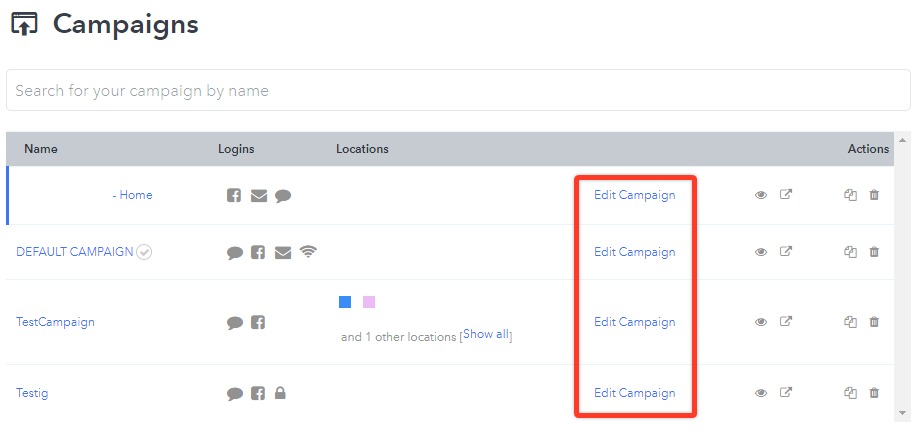 Preview and share your campaign
To preview your campaign, click the preview link icon.

Here, you can go through the entire login process to see exactly what your guests will see when logging in. You can share this with prospective clients as an example -- or use our Sales CRM preview to gather information at the same time!
Delete your campaign
If you need to remove a campaign from your dashboard, click the trash icon.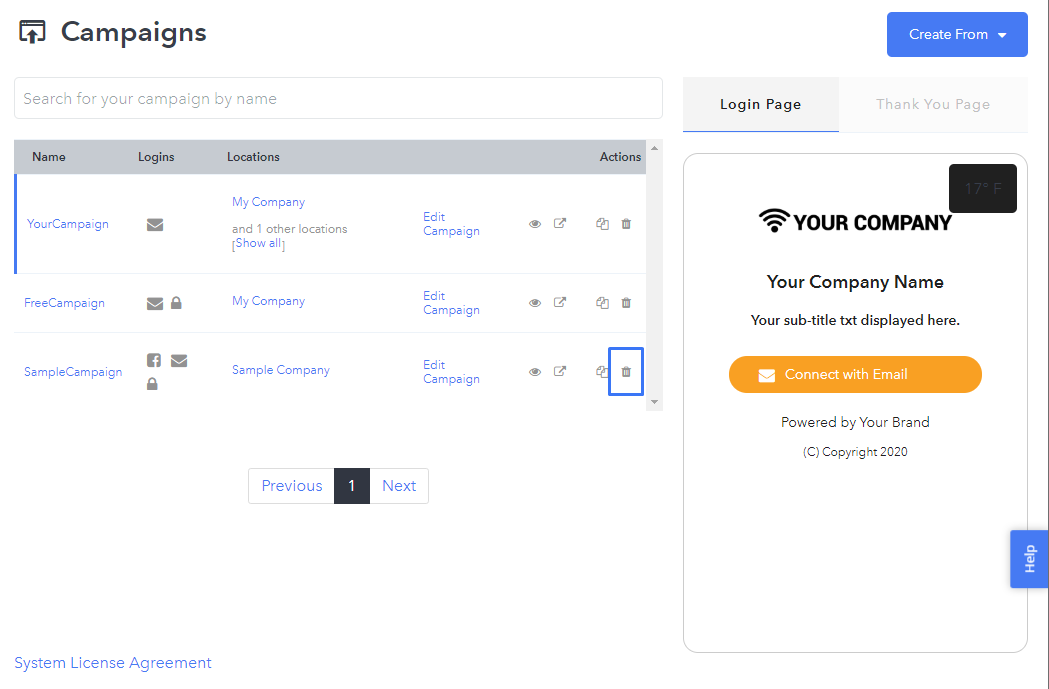 Need Help?
If you have any questions, please contact our support team by clicking the support icon located in the bottom right-hand corner of this page.