Manage your devices
In the main menu of your MyWiFi dashboard, you'll find Devices – there, you can manage all of the network devices you have deployed, as well as add new ones.
Once you have added your devices, you can assign them to locations -- then your locations will start broadcasting your campaigns and connecting guests to MyWiFi!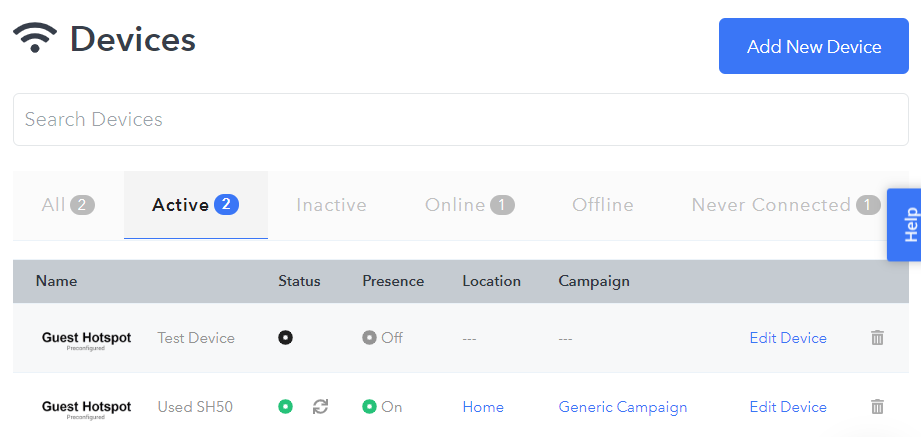 Add your devices
You can add devices to MyWiFi, so that they're ready to assign to your locations.


Device quick status bar
You can quickly see and manage Active, Inactive, Online, Offline and Never Connected devices with the quick access bar.

Device search bar
You can use the search bar to find the device you need to manage by entering the device name, MAC address, model or NASID.

Device and presence status
You can view the current status of your device, as well as see if presence analytics is enabled.

Location
You can quickly access the associated location


Campaign
You can view the active campaign.


Edit device
You can edit the device details by clicking this link.


Delete device
You can delete a device and remove it from MyWiFi entirely.


Warning
Deleting an active device will immediately stop the campaign from being broadcast at that location!
Need Help?
If you have any questions, please contact our support team by clicking the support icon located in the bottom right-hand corner of this page.