How to get started
Ready to sign up for MyWiFi? It's only a few clicks to sign up, and then you'll be ready to get started with your own MyWiFi account.
Choose your plan
Once you're ready to get started, head to our Pricing page to get started!
We currently have several plans that you can choose from out of the gate: our Pro plan, or Business plan, our Reseller plan, and our Training Bundles.
On our Pro plan, you get all the core features of our platform, including automations, real-time broadcasts, and presence analytics, and you can manage up to five locations. This is generally suggested for solopreneurs who are interested in selling social WiFi marketing.
On our Business plan, you get all the features of the Pro plan, as well as our client manager, scheduled reports, and our ad server -- and you can manage up to twenty locations. This is more aimed at businesses who may already have clients, and who want to add WiFi marketing to their list of services available.
On our Training Bundles, you have the option for Business or Pro plan and we bundle it with 3 months access to our platform, access to our video onboarding guides as well as complimentary hardware.
Our Reseller plan has all the features of our Business plan, as well as priority support and developer API access, but most importantly includes the ability to resell MyWiFi as your own white label solution! If you're interested in the Reseller plan,
Sign up for MyWiFi
From the pricing page, it's easy to get set up with MyWiFi! Choose your plan, and then click Start free trial. If you aren't sure of what plan to go with, we suggest the Business plan, since that way you'll have access to all our features while on your free trial.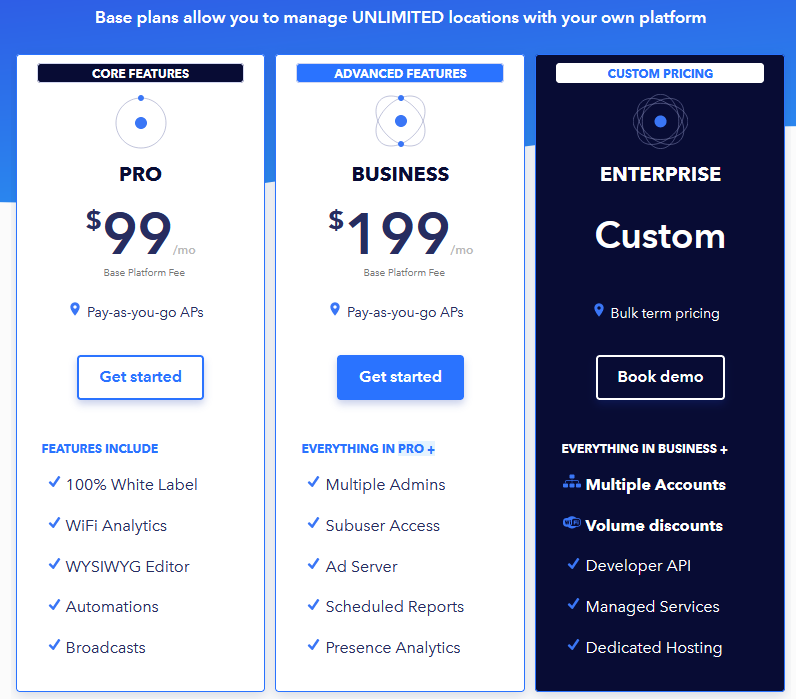 On the next page, you'll be asked to sign up one of three ways: you can sign up via Facebook, Google, or with your email. With Facebook or Google, you'll be asked to confirm your account and log in if you aren't already logged in on your browser. With email signup, you'll simply be asked for your email address and to create a password.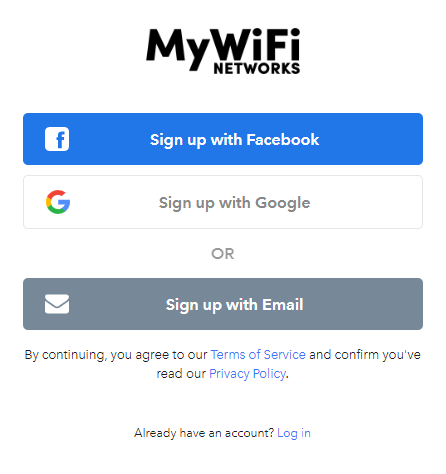 Regardless of the method used to sign up, you'll be asked for some standard information -- first your name and phone number, and then your company name and timezone. You'll also be asked to create a subdomain for your account at MyWiFi -- this will be the URL for your dashboard until you set up your custom control panel URL.
There is a quick setup process that may take a couple of minutes, and then you'll be asked for your credit card information -- don't worry, you won't be charged until the end of your trial, and you can change your plan level or cancel your account at any time before then.
Click Activate My Account & Get Started to be taken to your dashboard, where you can get started!
If you haven't yet, we recommend taking a look at the Dashboard Demo first -- it goes over the dashboard so that you get a full feel for the platform. And as always, we're always here to help -- just click the widget in the bottom right-hand side of the screen to access support whenever you need it!
Need Help?
If you have any questions, please contact our support team by clicking the support icon located in the bottom right-hand corner of this page.