Plans to fit your needs
Many different companies and agencies use MyWiFi, and everyone's needs are different. Not only that, but as you grow your needs might change! Here is a breakdown of all our plans and what they offer you.
If you haven't signed up yet, you can start a free trial for any plan level above Starter, and your free trial includes all of that plan's features for you to try out. Check out our main pricing page for more information geared towards you!
Subscription plans

Pro Plan
The Pro plan includes the Starter plan features plus:
Automations - allowing you to integrate with third-party apps based on triggered events, including sending emails or SMS messages
Broadcasts - allowing you to instantly send contact data to third parties or send real-time email or SMS blasts

WYSIWYG Editor - Customize Your MyWiFi experiences without hiring developers.

100% White Label - Your own branded platform with custom logo, domains, legal and more

WiFi Analytics - Collect and Analyze real-time guest data and export to CSV
Business Plan
The Business plan is our most popular plan and includes everything an agency needs to make the most use out of MyWiFi. It includes all the Pro plan features plus:
Our Clients manager, which helps you keep track of all your clients and everything associated with them, from their locations to their app integrations. This also lets you create subusers, so you can give your clients or their employees limited access to the admin.
Scheduled reports, which can be automatically sent to your clients or to you, saving you time and effort.
Our Ad server, giving you the ability to have advertisements in your campaigns -- giving you another source of revenue or allowing you to customize the campaign even further.
Presence analytics, which gives you an indication of your location's busiest time of the day or week
Multiple Admins - Create multiple Admin accounts for staff to manage your platform.
You can also view a full comparison of all subscription features here.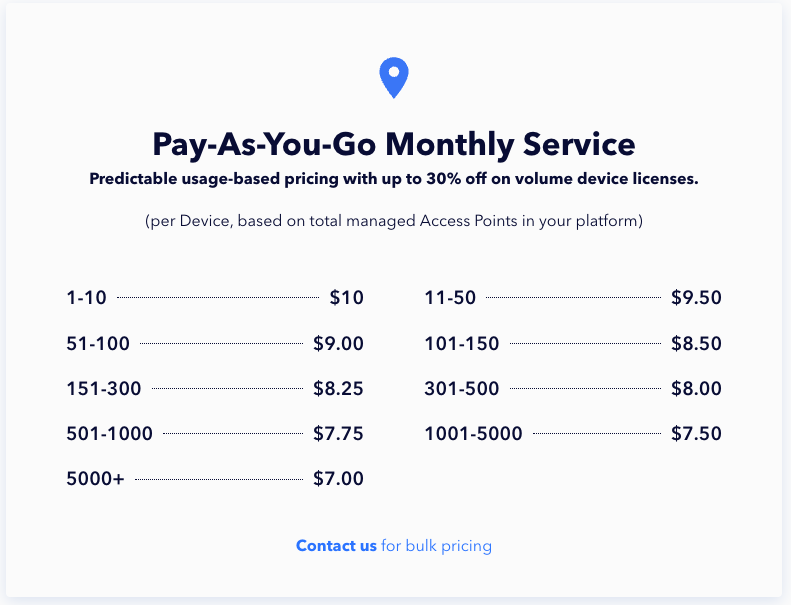 Enterprise solutions
If our plans don't quite fit the bill and you need something more flexible and customized to your unique situation, our Enterprise plan might be what you're looking for!
The enterprise plan includes a white-glove setup, an account manager, and developer support, and is ideal for large locations and high-traffic setups.
You can manage unlimited locations and while enterprise solutions generally include 250 access points, we can include additional access points as needed -- mention what you'll likely need when reaching out.
Contact us directly if you're interested in more details about a custom solution -- we'd love to talk!
Need Help?
If you have any questions, please contact our support team by clicking the support icon located in the bottom right-hand corner of this page.