Account info, resources, and more
In the top right corner of your MyWiFi dashboard, you'll find your profile account menu – there, you can access your account details, MyWiFi resources, and more
To access your profile menu, click your name in the top-right corner of the page.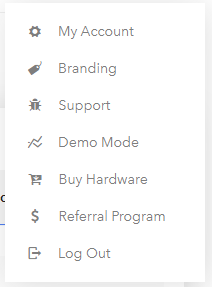 Profile menu options
My Account
You can manage your account details including your password, change your plan level, and view your invoices and billing information.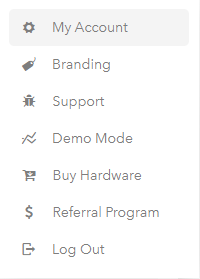 Branding
You can personalize your control panel to match your branding, including setting up custom URLs.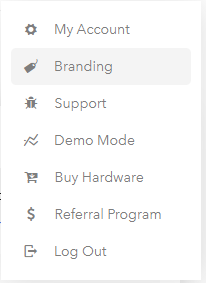 Support
Our in-house Support team is here to help you tackle challenges or help you with any quick questions you may have along the way.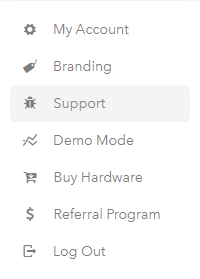 Demo Mode
If you have just created your account or are trialing the system, you can view a Demo account with entirely fake, generated data to see what information you can collect and manage within your MyWiFi platform. This is fantastic for selling the platform to others, as well!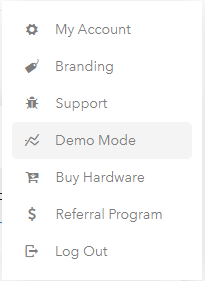 Buy Hardware
Need hardware for your social WiFi networks? Head to our shop and buy MyWiFi hotspots that come preloaded with our firmware. Our devices are plug and play!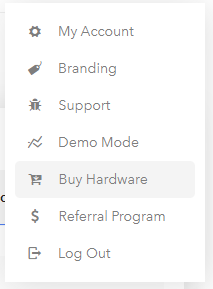 Referral Program
Want to earn 20% for life for every referred customer? Set up your affiliate account under Rewards Program.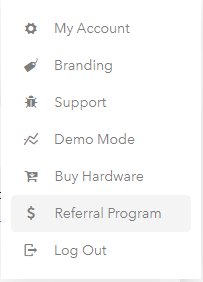 Log out of your account
You can log out of your account by clicking Log Out.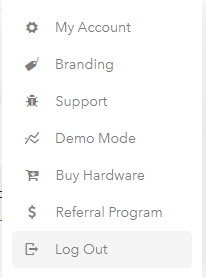 Need Help?
If you have any questions, please contact our support team by clicking the support icon located in the bottom right-hand corner of this page.