Have guests consent for you to use their data
The opt-in form makes it easy to ask your guests if they will explicitly agree to receive marketing messages, or for you to use their data.
What is the opt-in form?
The opt-in form is an optional part of the login page of your campaign, before showing any login methods. This requires the guest to explicitly confirm their consent.

Clicking the Yes button allows for the collection of their data; clicking the No text underneath does not. This is completely optional for the guest, and they will still be able to connect to WiFi if they click no; this is an additional step above and beyond agreeing to the Terms and Conditions as the first screen of the login process.

How to use the opt-in form
To enable the opt-in form and GDPR compliance, head to the Advanced tab in your campaign editor. Click the Opt-In Form toggle to enable the form.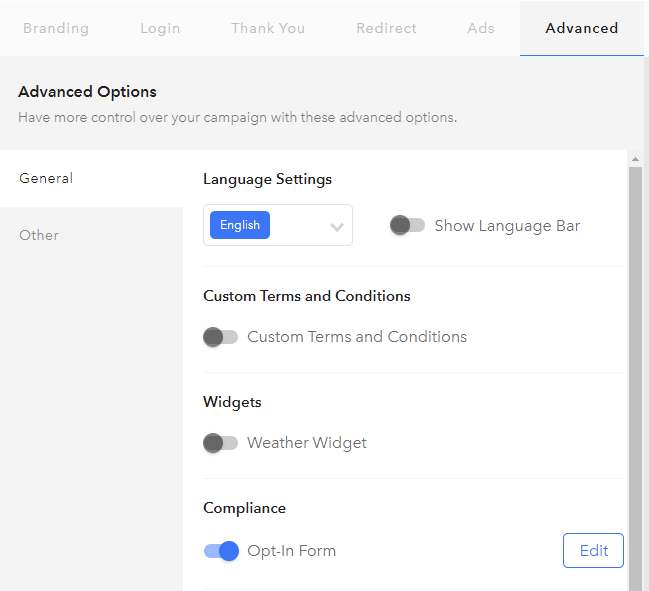 Click Edit to customize your form.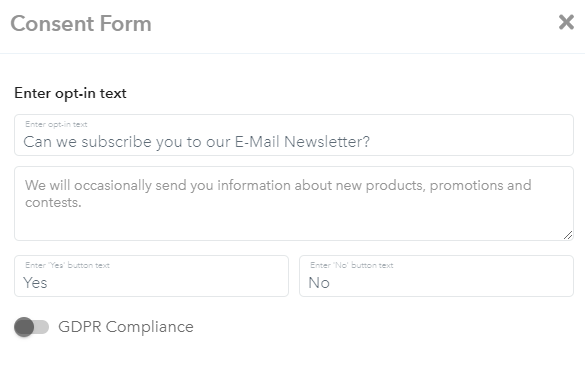 You can customize the question text, description, and the text for both buttons. This should all be written in clear, plain language so that all your guests will understand what they are consenting to.
You can also make this form GDPR compliant. NOTE: This is required if this campaign is running in the European Union or United Kingdom!

By clicking this toggle, you will make sure that you are collecting information in a way that follows the European Union's GDPR regulation; if your guests choose to opt out, you will not be able to access the guest's email or phone number, and you won't be able to send out automations.