Required:
Active subscription with MyWiFi
A location with an associated campaign.
To add the weather widget to your login page:
Select Campaigns from the main menu.

Click on Edit Campaign.


You may also add the weather widget on a new campaign.

Select the Advanced tab.
Toggle on Weather Widget.

The weather widget will appear as an overlay in the campaign preview.



In the campaign preview, the weather widget displays demo data only for visualization purposes. The widget is fully enabled with actual real-time data when live.



Click Save Campaign.

Your new weather widget will be displayed within that campaign:

Change temperature units
Click Edit to change the units displayed; you can choose to display the temperature in Fahrenheit or Celsius.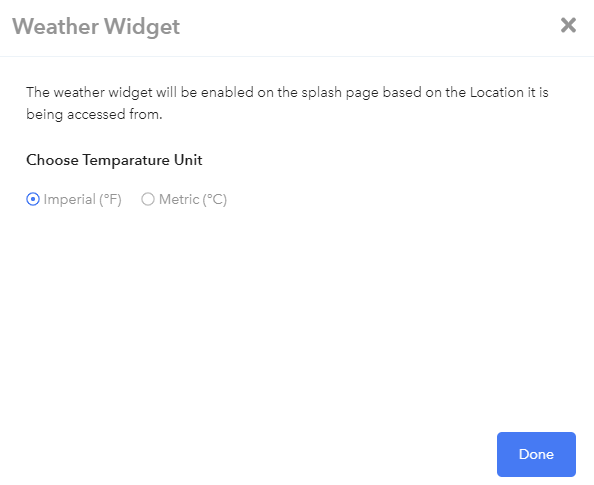 Location latitude and longitude
If your location doesn't seem accurate, you can manually adjust it.
Select Locations from the main menu.

Click the settings icon.

Set a default campaign if the location doesn't have one.


Select the Edit Location tab.

Make sure the correct location latitude and longitude is provided.


You can confirm the accuracy by pasting the latitude and longitude in Google Maps.

Click Update.
Need Help?
If you have any questions, please contact our support team by clicking the support icon located in the bottom right-hand corner of this page.