Set up your device
Unpack your new router and attach the antennas.
Plug your device to a power source, then connect an ethernet cable from your existing modem into the port labeled "Internet/WAN" on the back of the new device.
Plug in the power and wait for 2-3 minutes for your router to be fully calibrated.
Connect your router to your computer: using another Ethernet cable, plug one end of the ethernet cable into Port 1, and then plug the other end to the Ethernet/LAN port of your computer.
Install firmware
Add your device to MyWiFi and download the firmware when prompted.
Save the firmware file to your computer.


NOTE:

BE SURE TO SAVE THE CORRECT FIRMWARE ACCORDING TO THE MODEL OF YOUR ROUTER. IMPROPER FIRMWARE CAN DAMAGE YOUR ROUTER.
Open a web browser and type

192.168.1.1

or

192.168.0.1

in the address bar.
NOTE: We do not support using Internet Explorer to set up your router; please use another, more modern browser. The address of your router's admin console may vary; please contact support if neither of those addresses work and you're still having trouble.

Log in to your router; most routers have these default credentials:
USERNAME: admin
PASSWORD: admin
Once you are logged onto the router setup interface, refresh the page. If it asks you to enter login credentials again, use the same username and password.
Go to System Tools, then Firmware Upgrade. Choose the firmware file you downloaded from MyWiFi, then click Upgrade.
Click OK.

Allow up to 2 minutes for the firmware to upload and confirm the installation. If it doesn't work on the first attempt, try it again.
Once complete, you will see Upgrade Successful and your router will reboot. This process may take up to 3-5 minutes.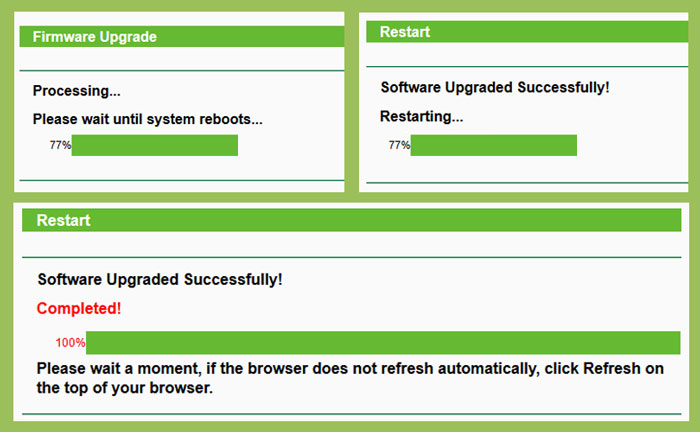 Next steps
Now that your router will work with MyWiFi, it's time to add your device to a location. You may need to wait up to 7-10 minutes for the system and router to connect properly; once it has, you'll see a green circle next to your device in the Devices section of your dashboard.
Need Help?
If you have any questions, please contact our support team by clicking the support icon located in the bottom right-hand corner of this page.