Your guests may want to unsubscribe from your email automations and real-time broadcasts -- now they can! Learn to add the email opt-out feature, as well as how to manage it.
Opt out of emails
All your email automations or broadcasts will now have an unsubscribe link at the bottom of the email.
You can customize this text in the branding section of your dashboard. Go to your profile menu in the top-right of your screen and click Branding.
In the bottom-right, you will see the Unsubscribe Text field; this allows you to change the wording of the link at the bottom of each email.

If you don't have anything in that box, your unsubscribe link will just read 'Unsubscribe'.
SMTP server: dynamic locations
As part of the requirements for the unsubscribe link when you're sending emails through an SMTP server, you need a mailing address. While setting up or editing an SMTP server as an app within MyWiFi, you will have two options: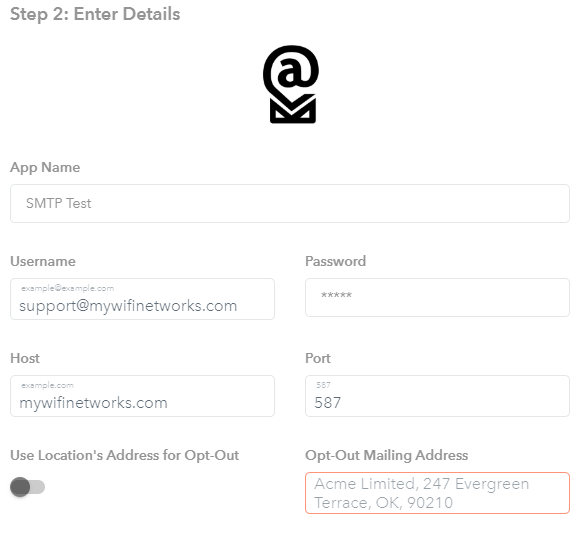 You can enter your Opt-Out Mailing Address if you would like it to remain static no matter how automations are triggered, or you can toggle on Use Location's Address for Opt-Out. With this option enabled, the mailing address added will be the location's address, based on what location the guest triggered the automation at. This means that you can have one more aspect of your communications with your guests completely white-label and personalized!
Need Help?
If you have any questions, please contact our support team by clicking the support icon located in the bottom right-hand corner of this page.