In the main menu of your MyWiFi dashboard, you'll find Sales CRM – there you can manage your campaign previews, your leads, and your website widget.
Quick overview
View and manage sales previews, leads, and your sales widget.

Required:
Active Business or higher MyWiFi subscription.
Sales CRM overview
Choose Sales CRM in the main menu to expand it and show each of the subsections: Previews, Lead Lists, Widget, and Labels.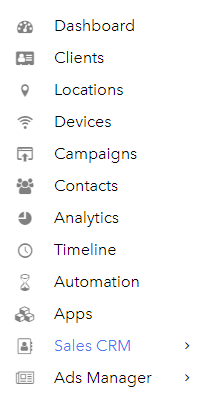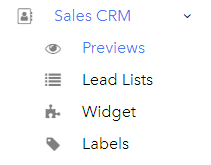 Previews
Using the sales CRM preview tool, you can create a unique and trackable link of your WiFi campaign experience, and provide that directly to clients and prospects for them to preview a campaign.
Best of all, if your prospects log in to the preview using their email or Facebook account, you'll instantly see their personal information inside your Sales CRM, so you can follow up and close the deal.
Create a preview
Click Create New Preview.

Choose a Name for your preview, to be used internally.

Select a Preview Type. There are two options:


Existing Campaign will list all campaigns you have previously created, and you will create a preview based on that campaign.

Selecting Website will create a new field for the website URL. This will create a new preview campaign using as much branding as we're able to scrape from the website, including colors and their logo.

If you have any Notes, enter them here so that you can remind yourself later -- for example, where you're sending out the link or who you're sending it to.

Click Save.
Manage your previews
Once you have created your first preview you can then manage them and send them to prospects.


Clicking Preview opens the campaign preview in a new tab. This is a fully-functioning preview of the campaign and login process, and if you go through it, your information will be added as a lead.
Clicking Leads shows all of the leads that have completed the preview login flow, by taking you to a filtered version of the lead list page.
Clicking Copy URL copies the URL to your clipboard. This is a unique, tracked URL for this specific campaign, so that your leads will be properly organized.
Clicking Duplicate makes a copy of the preview, and Delete will permanently delete the preview.
Clicking Edit will open a window allowing you to change the details.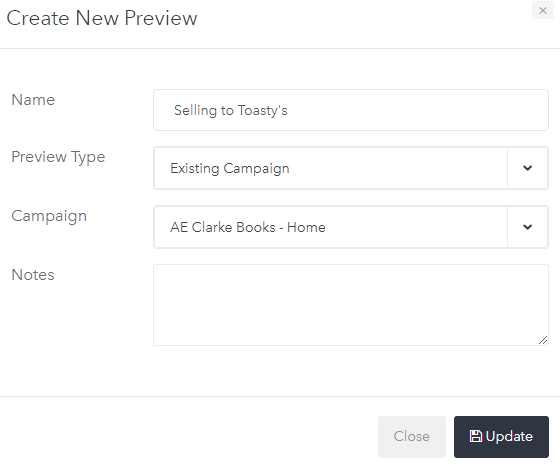 Lead lists
The lead list shows you a complete list of all your leads generated from all of your previews, including their contact details and the preview that they viewed; add or view your notes; and edit or delete each lead.
Manage your lead list

Create leads
You can create a new lead by clicking Create New Lead.

This will open a new window. To manually add a lead, choose a Campaign Preview, and enter their Organization Name along with their Name, Email, and Phone. You can also add optional Notes such as where you met them or services you talked about including. Hit Save to add them to your list.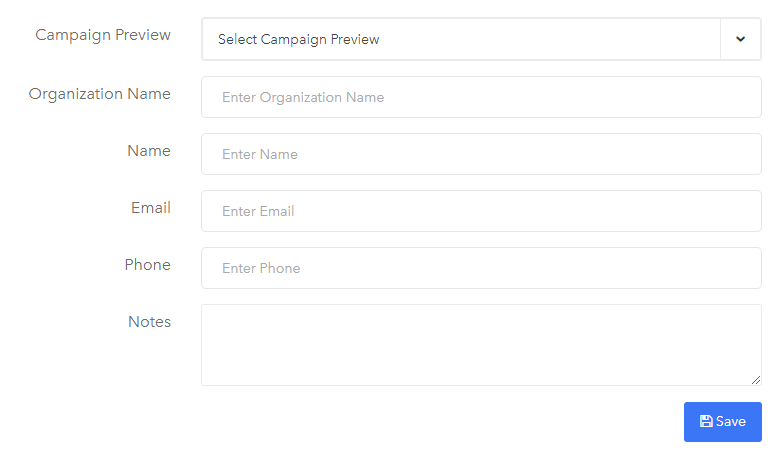 Filter leads
You can filter your leads by campaign using the drop-down menu, or search for a lead with the search bar.

Manage leads
You can view a list of all leads added, edit, and delete them.

To edit a lead, click the pencil icon. This will bring up a window with all the lead's details, and allow you to correct contact information or add notes.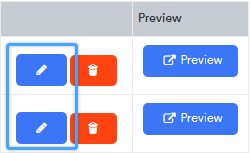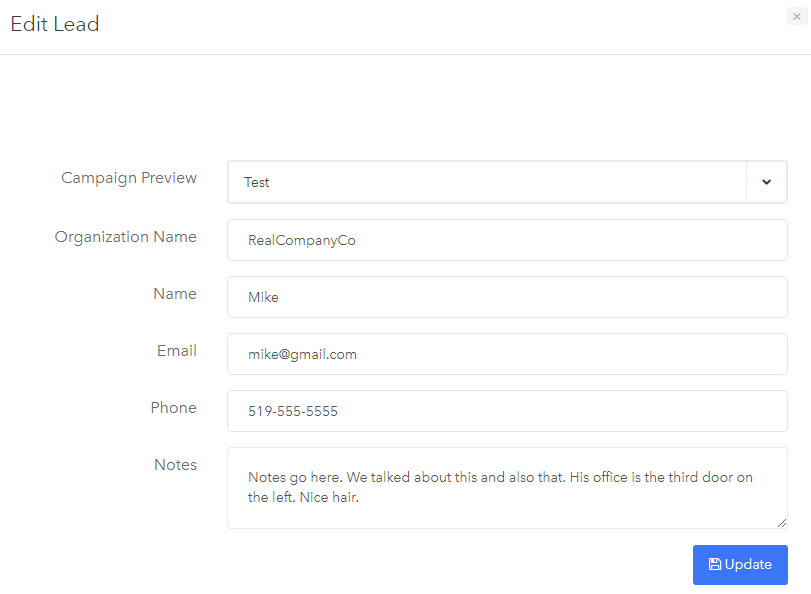 Click Update to save your changes.
To delete a lead, click the trash icon. This will bring up a window asking you to confirm that you want to delete your lead -- click Yes to proceed.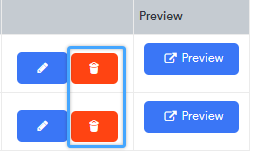 Widget
Here, you can access your unique sales widget -- this can be embedded into your webpage, and when visitors fill it out and customize a basic campaign, their information is collected on this page.

Widget options
You can edit the widget, copy the link to your clipboard, as well as view and copy the iframe code within the widget options bar.

Search widgets
You can search for leads that have used your widget here.

Manage widgets
You can view your leads' details, edit the details to make corrections or add notes, and preview the campaign they created, as well as delete them if necessary.

Labels
Here you can create, edit, and delete labels that can be used to better sort your preview links.

Create a label
You can create new labels by clicking Create New Label.

Search labels
You can search for labels by using the label search bar.

Manage Labels
You can view a list of all labels that you have created, as well as edit and delete them.

Need Help?
If you have any questions, please contact our support team by clicking the support icon located in the bottom right-hand corner of this page.