Keep your contacts organized
You can organize your contacts by using our filters to find the right group -- and then save them as a smart list. Your smart lists will automatically update to always include everyone who fits that criteria!
Creating a smart list
You can create a smart list from two places in the dashboard: your location dashboard's contacts page, or your admin dashboard's contacts page. In either case, the process is the same!
Select Contacts from the main menu or your location dashboard's menu.

Use the filters to narrow your guests down to the ones you're interested in. If you choose multiple filters, we will only show contacts that match all the filters, so you can create very narrow segments: for example, guests who have logged in using SMS for the past week.
NOTE: When creating a list from the admin menu, there is also a Clients filter and a Locations filter.

Once you have the list filtered down the way you want, click the + button to create a new list.

Enter a name for your list then click the Save button to save the filtered contacts.

You now have a saved list -- you can go ahead and create more segments, send them a real-time broadcast, or export this segment as a CSV.
Export a list as a CSV
If you want to export your contacts in a spreadsheet format that's easily readable by most systems, click Export on the right side, then Export as CSV.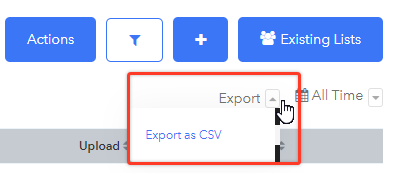 The CSV will have the following columns:
Name
Email
Phone Number
Gender
Age
Birthdate
Locale
Location
Campaign Name
Social Network
Device MAC
Client MAC
Visits
Opt-In
Connected Time
Access a saved list
To access a saved list, click Existing Lists on the right side, then click on the name of the list to load it! It will automatically update to include all contacts that match that criteria.
NOTE: You will see all your saved lists from any location dashboard -- clicking a list that does not include that location will produce a blank contact list!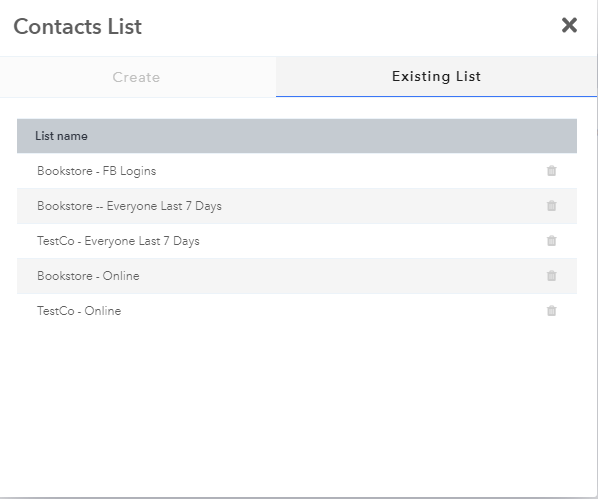 Need Help?
If you have any questions, please contact our support team by clicking the support icon located in the bottom right-hand corner of this page.