In the main menu of your MyWiFi dashboard, you'll find Contacts – there, you can manage all of the contacts collected from your campaigns as well as send out real-time broadcasts.
Quick overview
View and manage your contacts.
Required:
Active MyWiFi subscription.
Contacts overview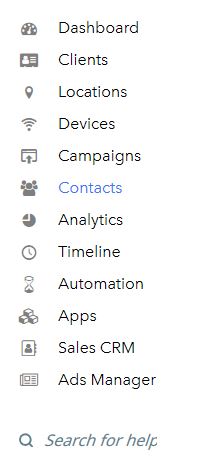 Selecting Contacts from the main menu will display a list of everyone who has connected to one of your campaigns.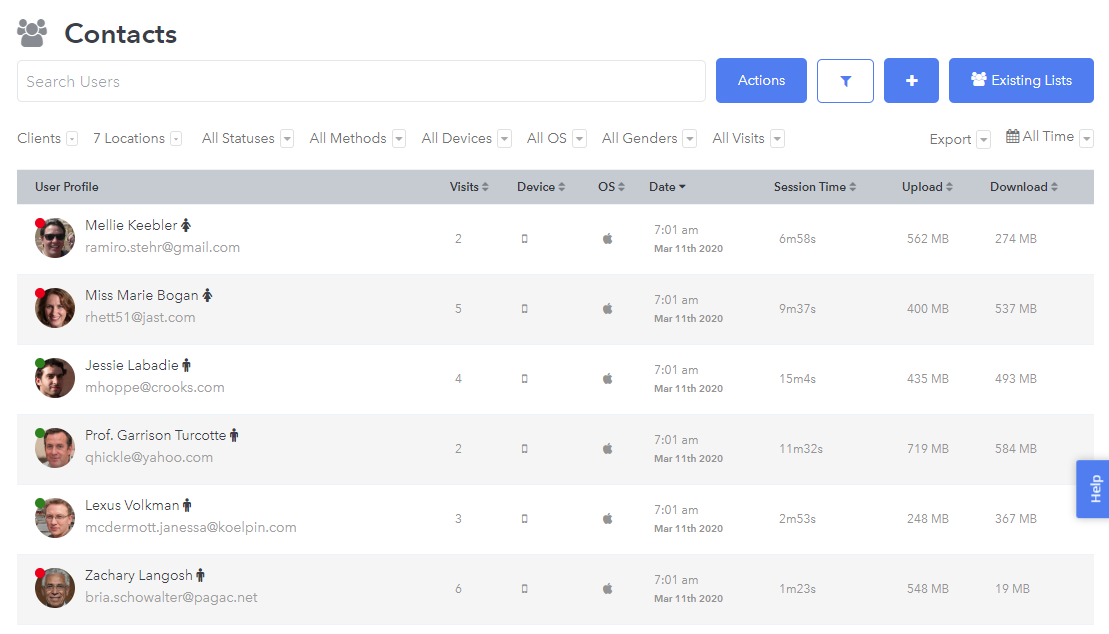 Contacts management
Once contacts have been added to your MyWiFi account, you can send broadcasts, group them in dedicated lists and view each contact's personal information.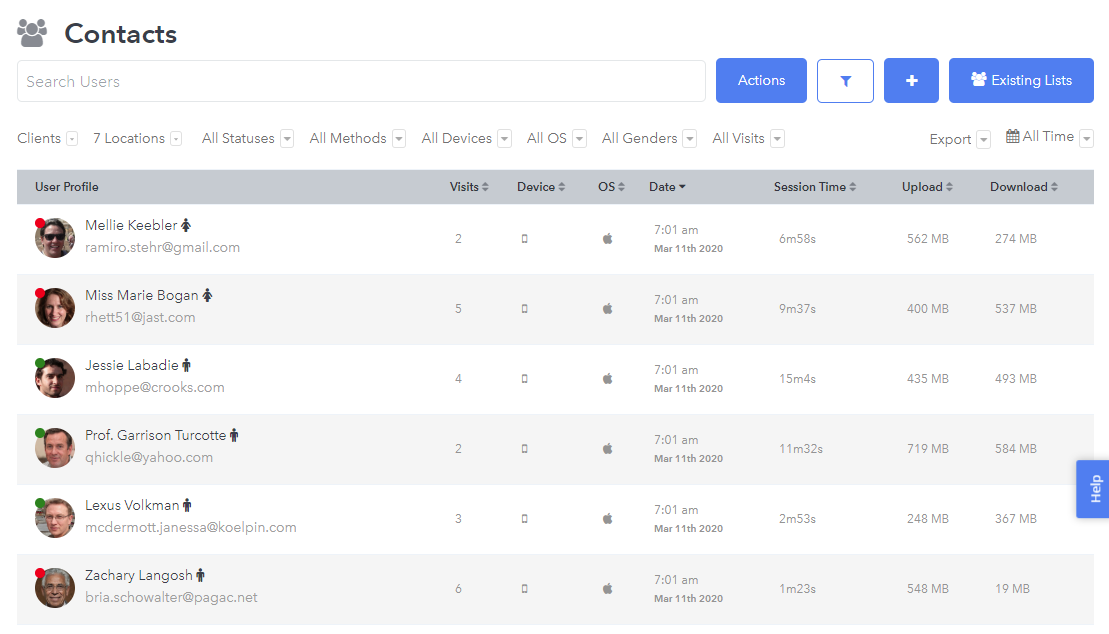 Send a broadcast action
You can use the Actions button to send out a real-time broadcast -- a one-time, instant communication either directly to your customers (via email or SMS), or to a third-party integration (such as ActiveCampaign or MailChimp).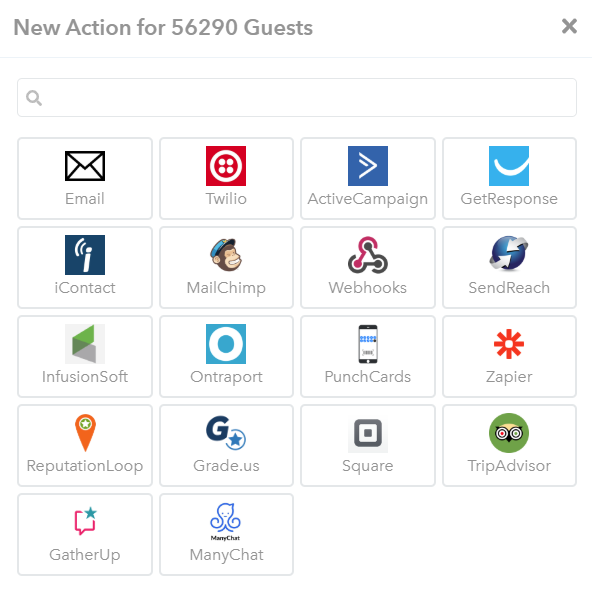 Display/hide filters
This will hide or display the filter options.

Create a contact list
You can create contact lists to help you organize the contacts that you have gathered.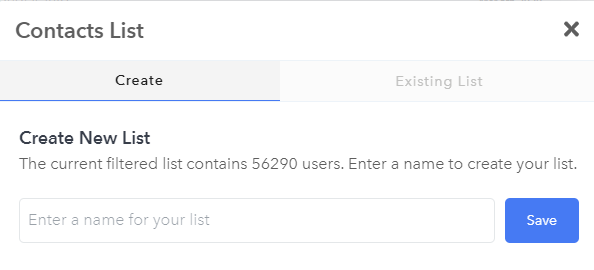 Manage contact lists
You can manage your contact lists, create new lists, or choose an existing list to view.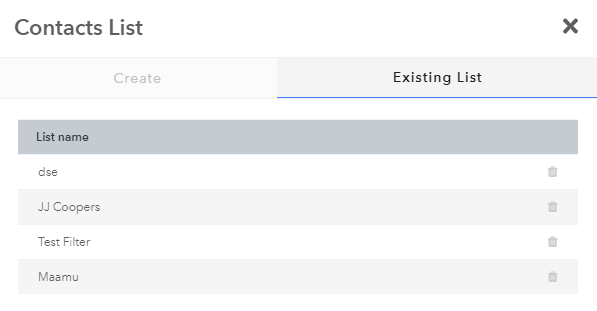 Filter contacts
You can filter your contacts in nine ways: client, location, online status, connection method, device used, operating system, gender, and whether this was a first visit or a returning guest.
If you choose multiple filters, we will only show contacts that match all the filters, so you can create very narrow segments: for example, guests who have logged in using SMS for the past week.


Export contacts
You can export your contacts as a CSV file, which is easily understood as a spreadsheet but can still be uploaded and processed by many data-management programs.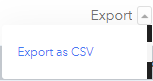 Contact details
User profile
You can see the contact name and email address that they used during connection.

Online status
You can see within your contacts list which contacts are currently online and which are offline: online will show as green and offline will show as red.



Visits
You can see how many times the contact has connected to your campaigns.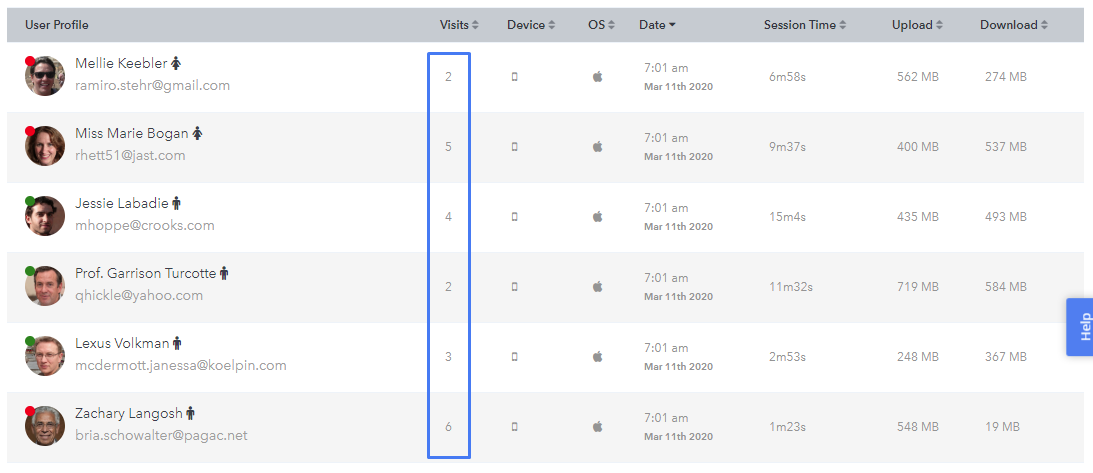 Device
You can see what kind of device the contact used for their connection.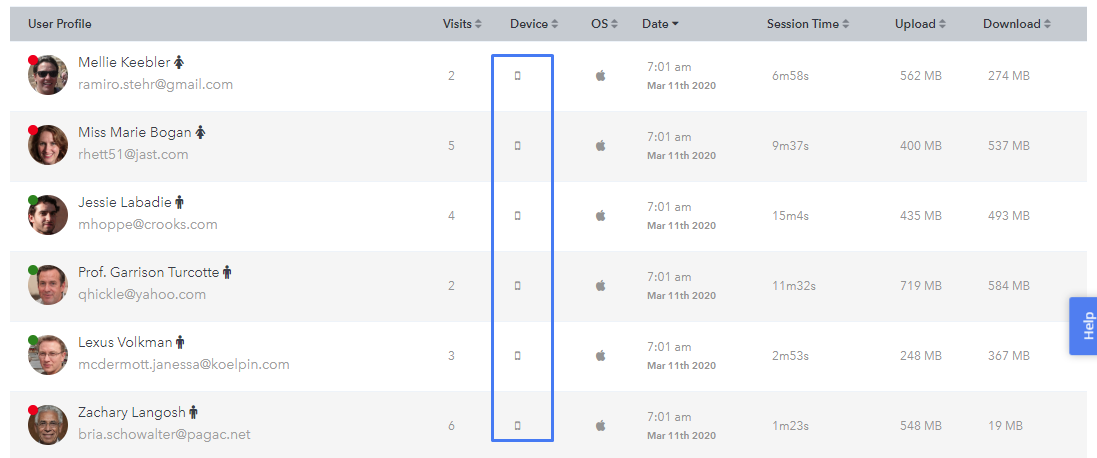 OS
You can see which operating system (OS) the contact connected with.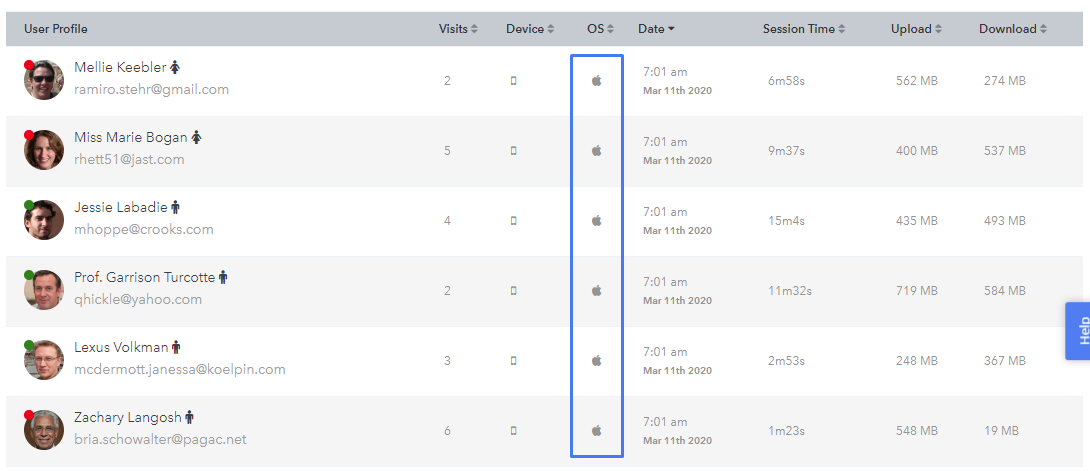 Date
You can view the time and date of the contact's last connection.

Session time
You can view the session time of each contact, which is the cumulative total of all connections.

Upload and download
You can view how much data has been uploaded and downloaded by each contact over time.

Need Help?
If you have any questions, please contact our support team by clicking the support icon located in the bottom right-hand corner of this page.