Create and manage your third-party integrations
Apps in the main menu is where you add and manage your integrations with third-party platforms.
What are Apps?
Apps are integrations with third-party websites or platforms. There are two general types of apps:
Login apps: These are apps that connect to a third party, usually a social media network, to authenticate and provide personal information. For example, Facebook is a login app -- guests use the integration to authenticate using their Facebook account.
Software apps: these provide services that MyWiFi does not, but works well alongside -- for example, a Mailchimp app can be used to send information about your contacts to your Mailchimp account, where they can be sorted into existing campaigns and keep your contact lists up-to-date.
Required:
Active subscription with a third party
Active MyWiFi subscription.
A location with an associated campaign.
App integration
Integration for each app is slightly different, depending on the specific information that that integration requires. We'll go over the general steps here, but your best bet is to go to our Supported Apps article and find the app you're looking for -- that page will have a detailed, step-by-step setup guide.
Select Apps from the main menu.

Click Add New App.

Select the type of app you would like to integrate or search for it by name in the search bar.

Choose the specific app you want to create.


These details are what will vary from app to app; fill in all the fields.

The constant is the App Name field; this is the internal name that you will see in drop-down menus when assigning this app to a campaign, automation, or subuser. If you're unsure where to get specific information, find our article about that specific integration!

Click Proceed to finish creation of your app.

Edit an app
If you need to edit any details about an app, click Edit App. The available details will be different depending on the integration.

It is not generally recommended that you edit the sensitive app details, such as API keys, as these must match the information that the other platform has. Editing the App Name will only be reflected internally, though, and if your integration requires a Password then you may need to edit that information.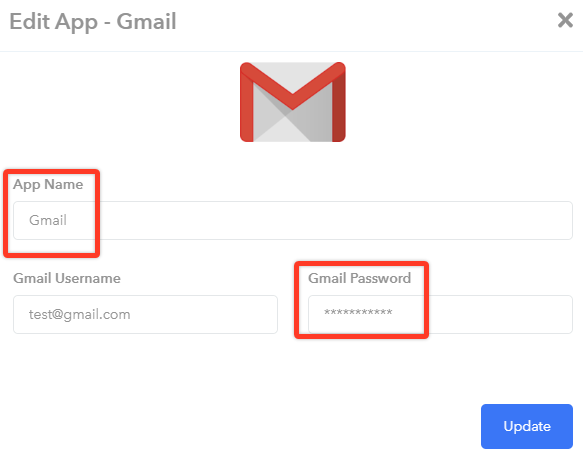 Delete an app
If you no longer need an app, click the trash icon.

Need Help?
If you have any questions, please contact our support team by clicking the support icon located in the bottom right-hand corner of this page.