As an Account Owner, you process data using automatic processes; because of this, you may in some circumstances have to provide your guests with their personal data on request, in a commonly-used and machine-readable format. You can export this data directly from your dashboard in CSV format.
Export your data
Go to Contacts in the main menu, then search for that contact's name, using the filters if necessary to narrow the search down to the single contact.
Click Export, then choose to Export as CSV.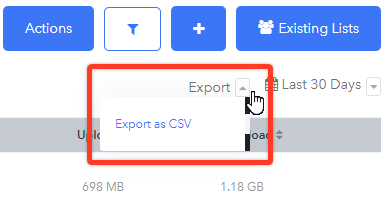 You will export a CSV, which is easily readable by any spreadsheet program such as Microsoft Excel or Google Sheets.

It will have these columns:
Name
Email
Phone Number
Gender
Age
Birthdate
Locale
Location
Campaign Name
Social Network
Device MAC
Client MAC
Visits
Opt-In
Connected Time
If necessary, MyWiFi can also make the full guest data available to you -- please contact us and let us know the situation!
Need Help?
If you have any questions, please contact our support team by clicking the support icon located in the bottom right-hand corner of this page.