Integrate your Cisco Meraki Devices with your MyWiFi account and enable guest access capabilities.
NOTE: There is a
much faster
way to add your Cisco Meraki devices using the Meraki Dashboard API! Please read
the automated setup instructions
for more information.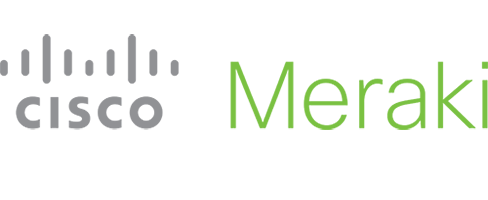 Required:
Active MyWiFi subscription.
A location with an associated campaign.
Meraki Cloud SSID setup
Select an SSID to be used with MyWiFi.
Select Wireless.
Select SSIDs under Configure.

Select an available SSID slot and rename the SSID. This will be the SSID your device will broadcast, and should match the SSID in your campaign.

Configure access control
Next, you will need to configure the Meraki Access control settings.
Select Wireless.
Select Access control under Configure.
Select the SSID.
Select Open under Association requirements.

Select Sign-On with my RADIUS Server under Splash page.

Configure RADIUS for splash page as follows:

| | | | |
| --- | --- | --- | --- |
| # | Host | Port | Secret |
| 1 | radius1.mywifi.io | 1812 | mywifi |
| 2 | radius2.mywifi.io | 1812 | mywifi |


Configure RADIUS accounting as follows:

| | | | |
| --- | --- | --- | --- |
| # | Host | Port | Secret |
| 1 | radius1.mywifi.io | 1813 | mywifi |
| 2 | radius2.mywifi.io | 1813 | mywifi |
Example RADIUS settings: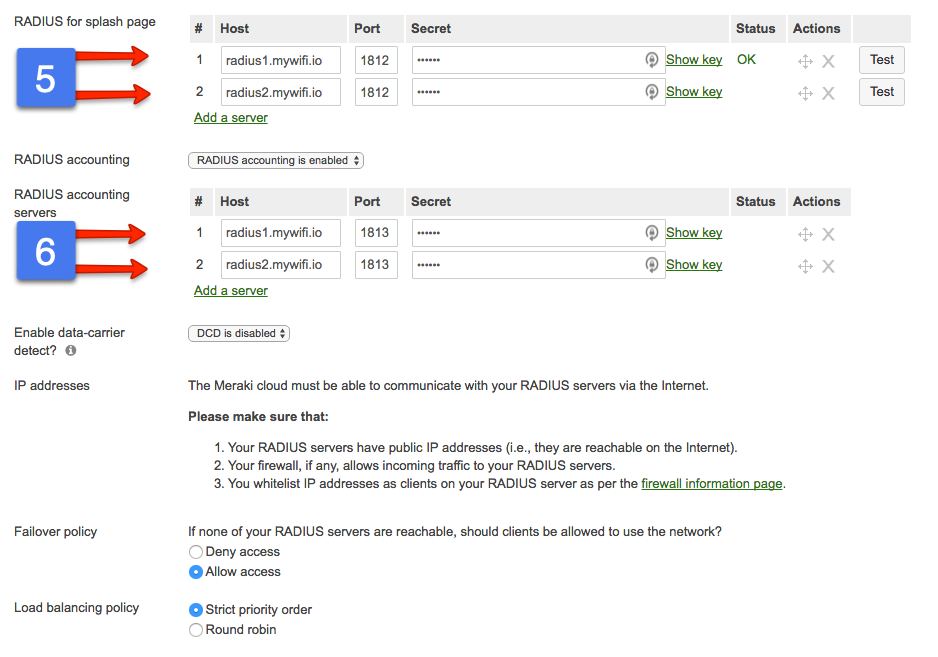 Walled garden
Configure your Walled garden settings to match these: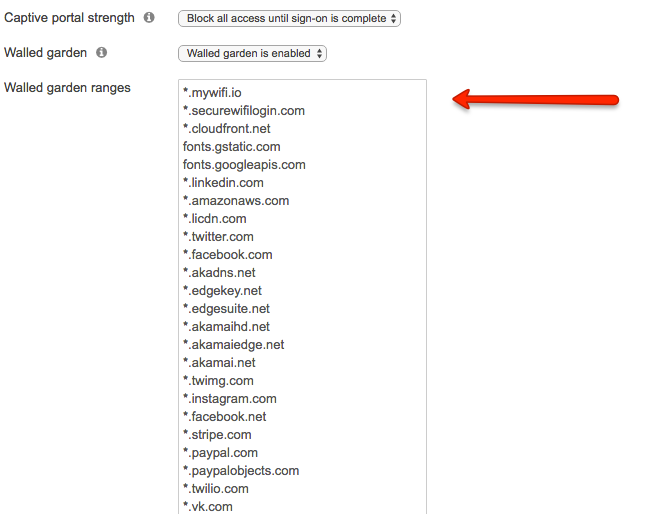 Captive portal strength: Block all access until sign-on is complete
Walled garden: Walled garden is enabled
Walled garden ranges: see below for full list
These settings require a domain-based walled garden whitelist. If this is not enabled in your Meraki Cloud, please open a Support Case and request a "Walled garden domain name whitelist".
It's Important
If you have a Custom Social Portal URL for your MyWiFi account, you must add it to the Walled Garden Whitelist in place of the *. acting as a placeholder in the first line of the list below and the screenshot above.
Here is the complete list of domains that need to be whitelisted:
Copy and paste this into the Walled garden ranges field. You can also click here to download this list as a text file.
*.
*.mywifi.io
*.securewifilogin.com
*.cloudfront.net
fonts.gstatic.com
fonts.googleapis.com
*.linkedin.com
*.amazonaws.com
*.licdn.com
*.twitter.com
*.facebook.com
*.fbcdn.net
*.doubleclick.net
*.fbsbx.com
*.twimg.com
*.instagram.com
*.facebook.net
*.stripe.com
*.paypal.com
*.paypalobjects.com
*.twilio.com
*.vk.com
Configure splash page
Select Wireless.
Select Splash page.

Select the SSID.
Select Custom splash URL and then Or provide a URL where users will be redirected, and set the URL to your Custom Social Portal URL. If you don't have one set up, use https://securewifilogin.com.

MyWiFi Setup
Now that you have set up your Cisco Meraki device, you can add it to your MyWiFi account.
Log in to your MyWiFi dashboard.

Select Devices from the main menu.

Click Add New Device.

Select the Location, enter a Device Name, and choose Cisco Meraki.

Select Manual Setup.

Provide the device's MAC Address. You can add multiple MAC address at once by separating them with commas.

Click Proceed.
Click Confirm Setup.

You should see your device in your dashboard.

Access point changes
If you make changes to your access points, you'll need to update the list in MyWiFi as well. Go to your Devices page, then click Edit Device.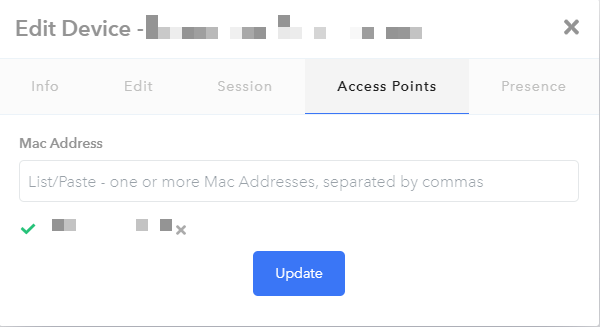 Under the Access Points tab, you can add MAC addresses with the text field or remove them by clicking the x next to it in the list.
Unable to access campaign

If you are not able to access your campaign after connecting to WiFi, or if you are entered in a loop when attempting to access any specific URL, please make sure that the
custom social portal URL
that you entered in the
Custom splash URL
field in Cisco Meraki is also included in the
Walled Garden list
.
Need Help?
If you have any questions, please contact our support team by clicking the support icon located in the bottom right-hand corner of this page.