The ads manager allows you to run ads during the login experience, and you can automatically convert virtually any URL into a responsive, rich media widget for post-login interstitial and thank you page ad placements.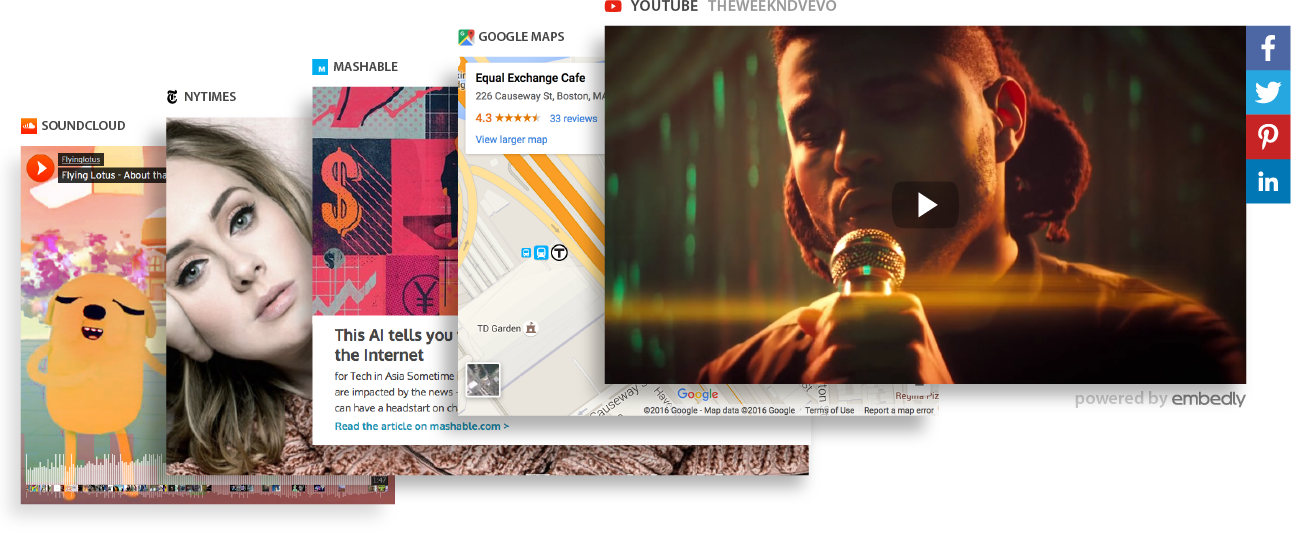 Create a dynamic ad widget
Select Ads Manager from the main menu.

Click Create New Ad.


Provide an Ad Name.

Select Dynamic Embed (video & rich media) as the ad type.

Provide the media URL into the Embed URL field.


Add rich media embeds of images, video, polls, slideshows, music, live video, forms, gifs, infographics and more automatically.



Click Save.


Your ad will magically embed itself into a responsive widget.



Your new ad will then be displayed.

These ads can be used in:
Post-Login Interstitial
Thank You Page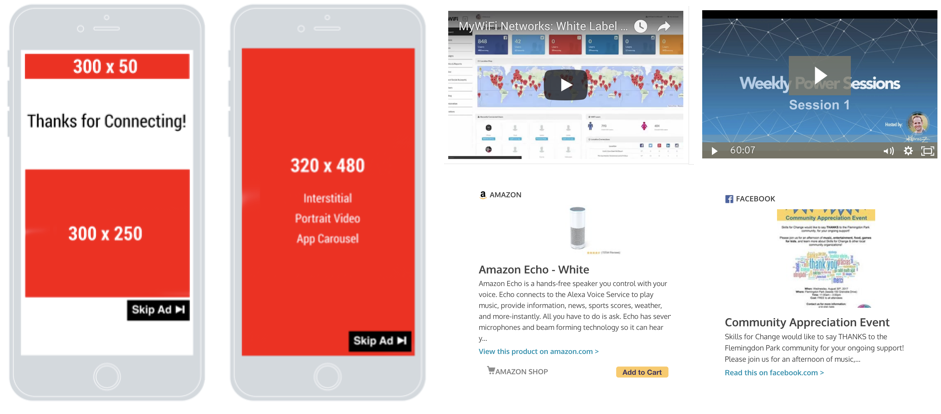 This ad unit cannot be displayed pre-login as the content is not whitelisted prior to Guests connecting.
You can automatically create Responsive Ads with any link from:
Flickr
Polaroid Swing
Momento360
Kuula
Imgur
Mobypicture
GifVif
Pollstar
xkcd
A Softer World
Dinosaur Comics
23
Dribbble
SmugMug
Img.ly
Tinypic
meadd
deviantART
fotopedia
photozou
instagram
Questionable Content
TwitrPix
someecards
pikchur
Achewood
WhoSay
Ow.ly
mlkshk
Droplr
EyeEm
Giphy
Frontback
Vidme
uludağ sözlük galeri
gfycat
tochka.net
4cook.net
Alpha Hat
Accredible
Futurism
Super Stack
Pexels
Plotly
Represent
GitHub
Product Hunt
SlideShare
Typeform
Microsoft MakeCode
Scribd
Upscribe
DocDroid
Datavis Tech
ContentUpgrade.me
Screenr
Scrimba
PollDaddy
Opinary
Howcast
Screencast
issuu
Kickstarter
Scrapblog
Foursquare
LinkedIn
SlideRocket
Yelp
Google Data Studio
AppFollow
Luffa
SocialE
Buncee
Genially
Google Maps
Alpaca Maps
Graph Commons
Infogram
Datawrapper
Kumu
My Opera
Tumblr
PollEverywhere
Intellogo
Pastebin.com
Pastie
Fontself
Redux
CloudApp
Speaker Deck
Kiva
Timetoast
Meetup
dailymile
Kinomap
MetaCDN
Prezi
UserVoice
emojicom
Wikipedia
Wikimedia
Natural Atlas
Urtak
Ganxy
360 Panorama
ThreeSixty Tours
Behance
JD Supra
Minilogs
Sketchfab
jsFiddle
Snipit
ScalaFiddle
RunKit
Ponga
Listly
Crowdmap
IFTTT
Weavly
Tagmotion
Cloudup
Talely
Polar
Bubbli
Imajize
Giflike
RapidEngage
Infomous
Stepic
Tapestry
Chirbit
Polstir
iSnare
BranchTrack
JS Bin
Wedgies
ChartBlocks
RaddIt
Vidbi
Kastio
Megavisor
Beautiful AI
Bunkr
CartoDB
Flourish
FlowVella
PeoplBrain
CodePicnic
instela
CodePen
Microsoft MakeCode
CodeSandbox
runelm.io
vtility virtual tours
Quora
TuneIn
Spreaker
Omny Studio
Scribble Maps
Codeply
Weekend Superheroes
Marvelapp
Candy
Flat
Qzzr
Shorti
Blab
Glitter
VRCHIVE
GlobalGiving
NewHive
slidr.io
Paste
Publons
Calaméo
Relayto
Graphiq
Stacker
Silk
Sway
Public Good
Airtable
Knight Lab
Last Graph
Roger
StackShare
Maphubs
Braid
Talkshow
MediBang!
Redivis
Webboards
Matterport
cooler
MathEmbed
Minko
The Heartstrings Project
Altizure
Exploratory
mySidewalk
Esplorio
Pastery
Hardbound
myBeweeg
Storribook
Sidewire
Codiva
FWD:Everyone
Wizer.me
Kidoju
Razoo
Eyrie
Verse
Canva
MovieMogul
Rabbut
Walkinto
Archilogic
Peptone
Highly
UpLabs
Ellie
Maprosoft
Gradbase
Cincopa
VR3D
SuperMeditor
VRB Foto
Orbitvu Sun
IPushPull
very.gd
Apple Keynote
iorad.com
EXIF.co
Swurveys
SendOut.io
SeekBeak
HopBucket
million eyez
Supgif
jsComplete REPL
Pixdor
Storeo
Vysda
Vimsical
Moveshelf
Social Explorer
Charts by Social Explorer
Remind to Read
Commaful
StackBlitz
Facer
Paperform
Heeyy
Diagramy
Cappasity
Clay
3DCrafts
Buttondown
npmcharts
Queezly
DailyStory
Buyte
Meedan Check
Parkfy
Bitmark
Sheetsu
Figma
GitPitch
Tech.io
Fishbole
Datasmoothie
ChatNews
Envelope
Ludus
Streamr
SIGSEV
Cohese
Bad Panda
EthFiddle
Bangbang.do
JotForm
Feedbeaver
Bit Of Me
Namchey
Glitch
Factsumo
MapinMind
Web Assembly Studio
BlueprintUE
Code Ocean
MedleyText
Plunker
Repl.it
Flixel
PanoMoments
Collect.chat
Repl.it
Plunker
Eberus
Terminaid
Mural
MPEmbed
Expo Snack
ShopLocket
Fiverr
Kit
YouTube
Twitch.tv
Oddshot.tv
NeatClip
Forge Inc
UStream
Qik
Revision3
Daily Motion
Rumble
College Humor
Telly
Break.com
Myspace Videos
MetaCafe
Blip.tv
Google Videos
Yahoo! Screen
Viddler
Snappd
LiveLeak
Animoto
dotSUB
Overstream
Livestream
WorldStarHipHop
Bambuser
SchoolTube
JibJab
xtranormal
Socialcam
Youku
Cayke
snotr
Clipfish
MyVideo
LIT
Coub
Streamio
Vine
Viddy
Tudou
MixBit
SproutVideo
Minoto Video
Brainshark
Pixdor
MyVideoPlace
TwentyThree
GoAnimate
Brainsonic
Lustich
Reelhouse
web.tv
Mynet SahneTV
İzlesene
Alkışlarla Yaşıyorum
59saniye
Zie
uStudio
Kaltura
Bale
Allego
Clipter
HireVue
Sendvid
Frankly.me
Streamable
Ticker.tv
videoBIO
Clippit
Storygami
gifs.com
Videopath
Panopto
Dream Broker
Oumy
iLOOPit
Uploadly
TouchCast
Vibby
ilos videos
Qwipin
StreamOne Cloud
Vixy Video
Skipstone
HapYak
Huzza
Fraim
Riffsy
tenor
Vidlit
Nom
Chew
Screenhunters
Vlipsy
StageVids
Roshi Clips
PopChest
SleeperBot
Qanda
LoopHouse.TV
Vilynx
SVRF
Jaunt VR
Maven
Clippy
Alugha
Whale
Genius
Inform, Inc.
#REKT
Screen Shots
Gametakes
iHeartRadio
Pinecast
Loom
Entrypoint
Relive
SportsMe
Ziggeo
AceHipHop
Viostream
Paratii
Verasity
LikeCoin Foundation
Worthyt
Kralify
Hulu
Crackle
Funny or Die
Vimeo
TED
NFB
The Daily Show
Yahoo! Movies
The Colbert Report
The Onion
WordPress TV
Trailer Addict
TrailerSpy
FORA.tv
spike.com
GameTrailers.com
Koldcast Tv
Mixergy
PBS Video
Zapiks
TruTv
NZ On Screen
Wistia
Confreaks
All Things Digital
New York Magazine
Aniboom
GrindTV
ifood.tv
Logo: Fierce TV
Lonely Planet
Street Fire
ScienceStage
Brightcove
wireWAX
CANAL+
VEVO
Pixorial
Spreecast
ShowMe
LoopLogic
AOL On
Video Detective
Khan Academy
Vidyard
Veoh
Univision
Vidcaster
Muzu.tv
Vube
Box Office Buz
GodTube
Media Matters
Clikthrough
Clip Syndicate
SRF
MPORA
J-Stream
Vice.com
VideoDonor
LoveLive
Hürriyet TV
InitialView
uludağ sözlük video
IGN
AskMen
Esri
Office Mix
Zapkolik
iPlayerHD
Plays.tv
Video Checkout
lynda.com
embedly
Momindum
Magisto
Within
nr8.com
Buto.tv
Vizor360
SIMMER.io
ABC News
Boston.com
Facebook
CNBC
CBS News
Google Plus
CNN
CNN Edition
CNN Money
MSNBC
NBC News
Fox Sports
Global Post
The Guardian
Bravo Tv
Discovery Channel
Forbes
Distrify
Fox News
Fox Business
Reuters
Huffington Post
Vorarlberg Online
Spiegel Online
Zeit Online
Play RTS
SoundCloud
Spotify
Last.fm
Simplecast
Changelog
Megafono
Mixcloud
RadioPublic
Hark
Rdio
zero''
Bandcamp
Free Music Archive
NPR
Huffduffer
AudioBoom
xiami
SayNow
Grooveshark
RadioReddit
gogoyoko
The Hype Machine
bop.fm
Clyp
DNBRadio
sfx.io
Anchor FM
Bumpers
Buzzsprout
60dB
Allihoopa
Vizamp
ART19
TapeWrite
Megaphone
Soundsgood
SpareMin
Pippa
Odiocast
Vooozer
VoxSnap
Audiomack
Songlink
Speechkit.io
Liberated Syndication