Facebook Pixel and MyWiFi

Add your Facebook Pixel for ad retargeting.
Integrate your Facebook Pixel account with your dashboard so that you can learn more about a location's traffic, measure cross-device conversions, optimize your custom ads, add much more.
Check out the benefits of installing a Facebook pixel before deciding to integrate with your dashboard.
Required:
Active subscription with Facebook pixel.
Active MyWiFi subscription.
A location with an associated campaign.
Facebook pixel setup
You will first need to log in to your Facebook pixel account, create a new pixel and retrieve the pixel ID before beginning to integrate your new app.
View the Pixels tab in Events Manager.
Click Create a Pixel.
Click Create.


Your Facebook Pixel will be ready to use at this point.

Copy the Pixel ID.


You will need this pixel ID to integrate your app with your dashboard.




MyWiFi setup
Now that you have your Facebook pixel ID you can integrate Facebook pixel as an app within your dashboard.
Create an app
Log in to your dashboard.

Select Apps.

Click Add New App.

Select Social Apps.

Select Facebook Pixel.

Provide an App Name and the Pixel ID.

Click Proceed.

Campaign setup
Now that the application has been added to your dashboard you can set up Facebook pixel where you want to capture lead data.
Select Campaigns from the main menu.

Click Edit Campaign.

Select the tab Advanced.

Select the tab Other, click the Facebook Pixel ID dropdown menu, and select the pixel ID you would like to add to this campaign.
What happens after I add the Facebook Pixel?
All guests that connect to the campaign will automatically be added to your Facebook pixel audience. You can then segment those audiences within Facebook, based on user activity and engagement.
The Facebook pixel integration provides tracking for the following events:
WiFiLogin - When someone logs in to your captive portal.
Lead - When someone logs in and the user data is captured.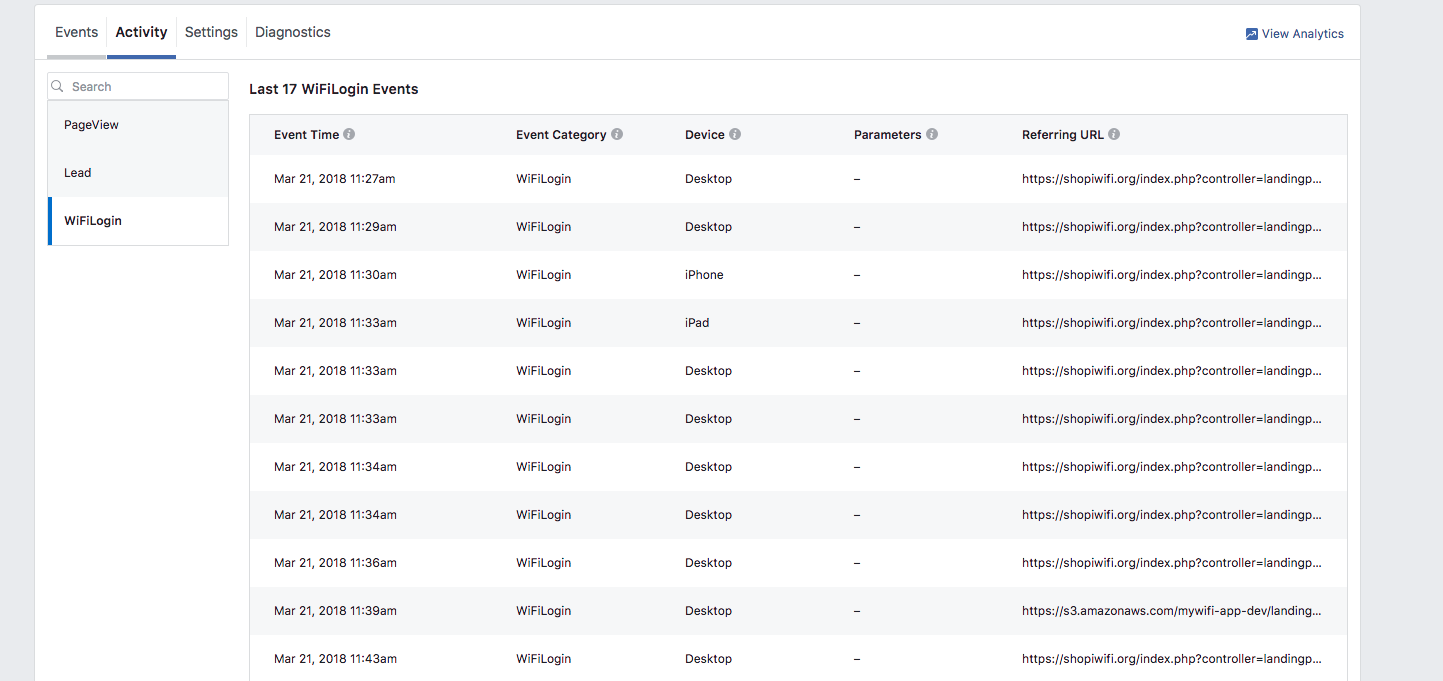 Need Help?
If you have any questions, please contact our support team by clicking the support icon located in the bottom right-hand corner of this page.