In the main menu of your dashboard, you'll find Locations – where you can create and manage everything that is associated with each of your locations.
Go to Locations in the main menu.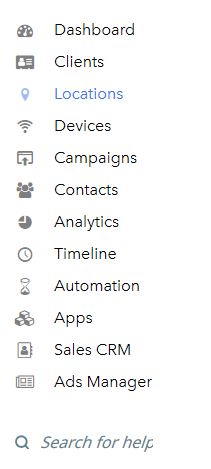 This will display your locations.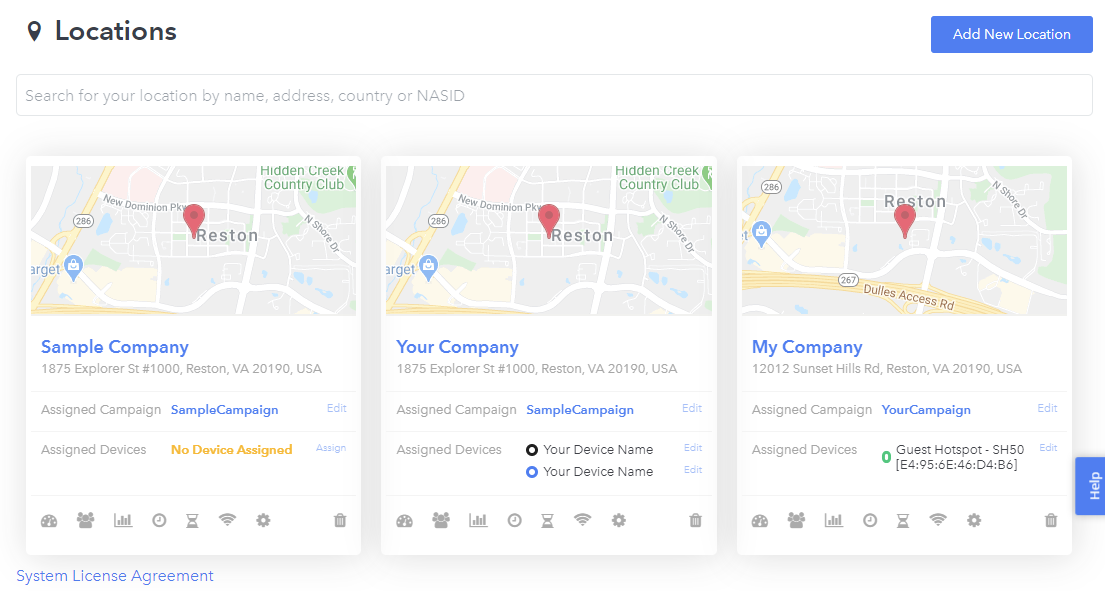 Locations management overview
You can quickly access various aspects of each location, as well as add new ones.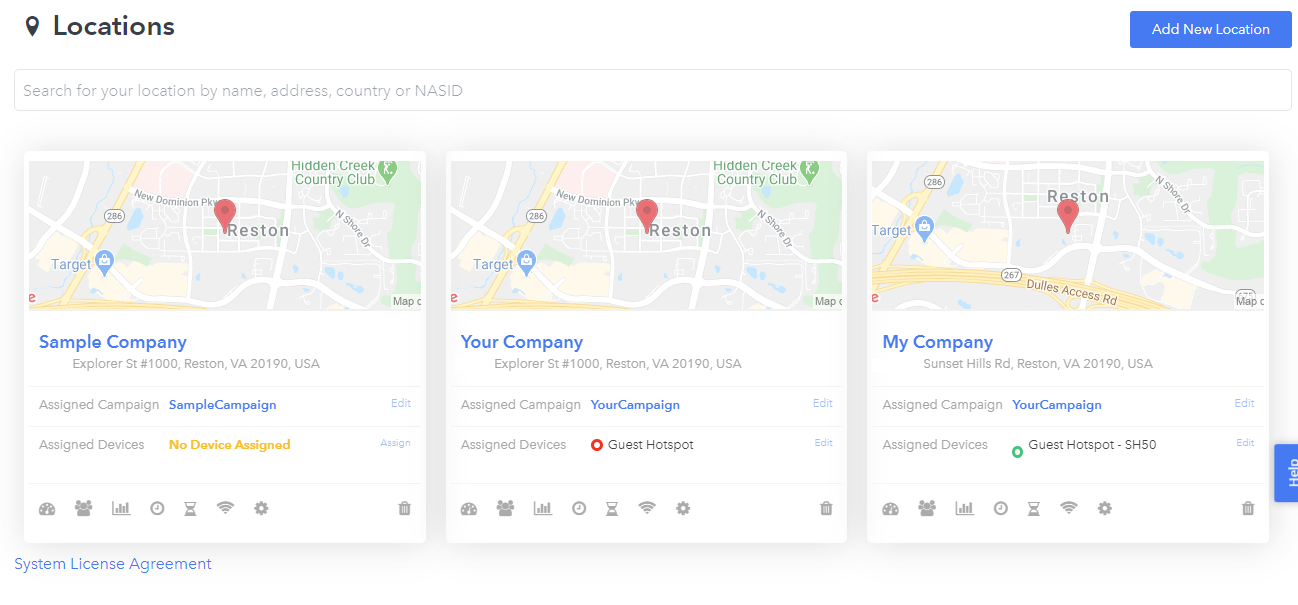 Add location
You can add new locations to your dashboard by clicking the Add New Location button.


Location search bar
You can use the search bar to quickly find the location you want. Once you have over 20 locations, the search bar can become an essential tool to rapidly find, edit and manage your locations.


Assign and edit campaigns
You can add, manage, and customize the current campaign by clicking the Assign or Edit link.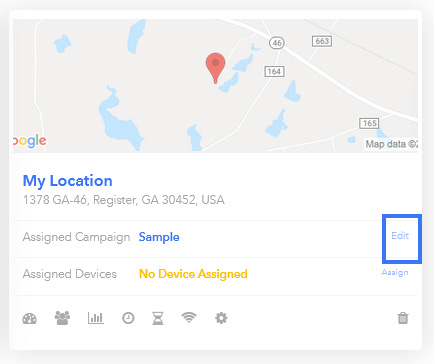 Assign and edit devices
You can assign or edit devices by clicking the Assign or Edit link.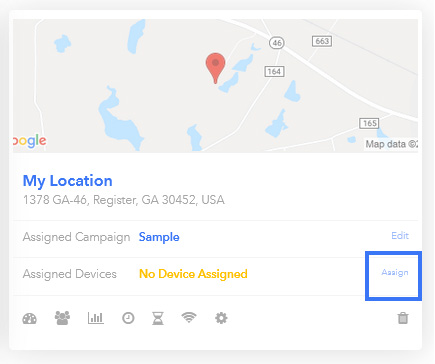 Location dashboard
You can quickly access the location dashboard and view details about performance, metrics, social logins, online guests as well as new or returning guests to the location, by clicking the dashboard icon.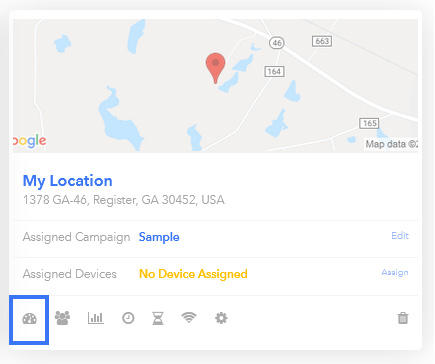 Location contacts
You can view a list of location contacts, as well as view their user profiles and details, by clicking the contacts icon.
Location reports
You can view location statistics and have a visual overview of the number of guests, and more, by clicking the report icon.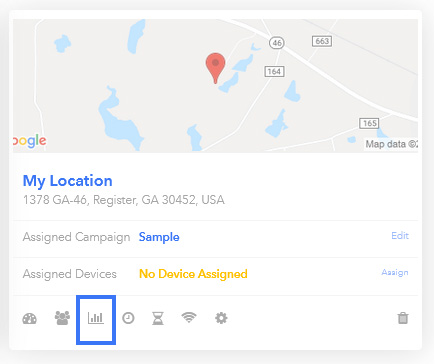 Location timeline
You can view recent logs and real-time guest logins, as well as detailed information about each login, by clicking the timeline icon.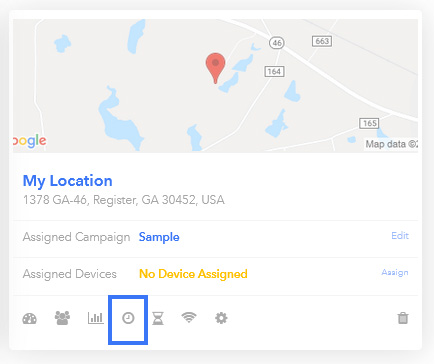 Location devices
You can view and edit the devices assigned to a location and their settings by clicking the devices icon.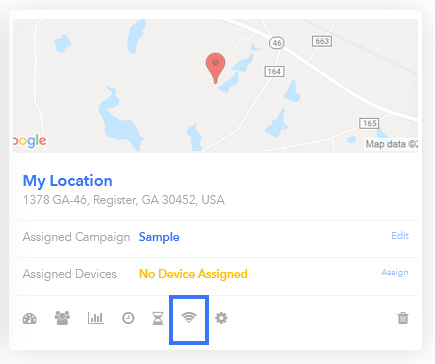 Location settings
You can change and schedule campaigns, edit location details, and more by clicking the settings icon.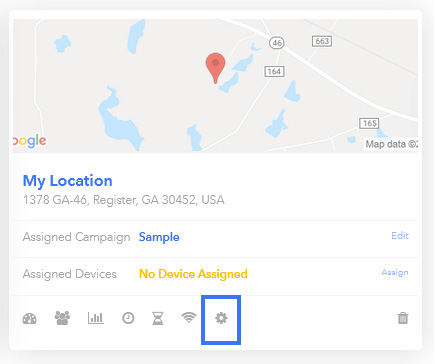 Delete your location
You can safely remove any location by clicking delete; this will ask for confirmation and then permanently delete the location.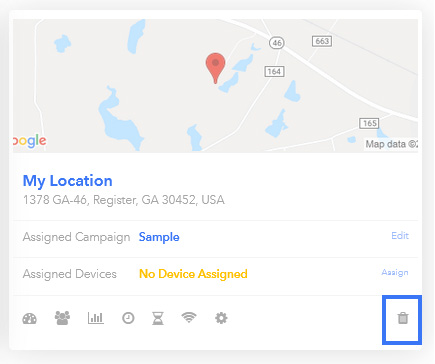 Warning
Deleting a location will immediately stop the device from broadcasting the campaign.
Need Help?
If you have any questions, please contact our support team by clicking the support icon located in the bottom right-hand corner of this page.